A descendant of the first wave of the women's rights movement—the great granddaughter of activist Ida B. Wells— Michelle Duster— is making the news. She is participating in a fundraising project to raise money for a monument to Wells in Chicago. Duster is hopeful that after years of fund-raising efforts the #IdaPledge push will finally get the monument fund to its $300,000 goal.


Through the Eye of Marguerite Kearns: Writing as the descendant of suffrage activists! on Vimeo.
IN OTHER NEWS FROM SUFFRAGE WAGON NEWS CHANNEL:
"Seneca Falls Revisited: A Women's Equality Weekend" is scheduled for Rochester, NY on August 23-26, 2018 at the Hyatt Regency Rochester. It is the 170th anniversary of the Seneca Falls women's conference in 1848 and a bicentennial for Frederick Douglass. Adult fee: $99 and $50 for students. Contact Sharon Nelson: Sharoninelson@aol.com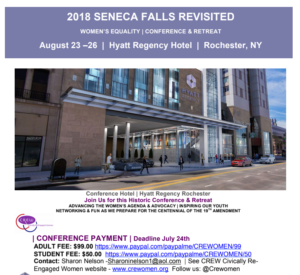 FROM MARGUERITE KEARNS: I have been blogging about Edna and Wilmer Kearns since 2009. Now it's time to put the rubber to the road and this means, sharing the details. Selections from the memoir have been published in Woodstock Times (2017), Santa Fe Literary Review (2017), New York Archives (2013), NY Votes for Women: A Suffrage Centennial Anthology (2017), as well as other periodicals and special interest publications. And in 2018- The Katie Besser Award for a memoir selection.
IN VOTES FOR WOMEN NEWS (from Suffrage Wagon News Channel):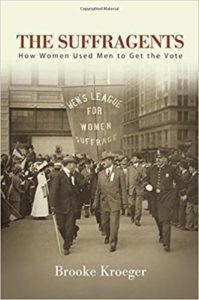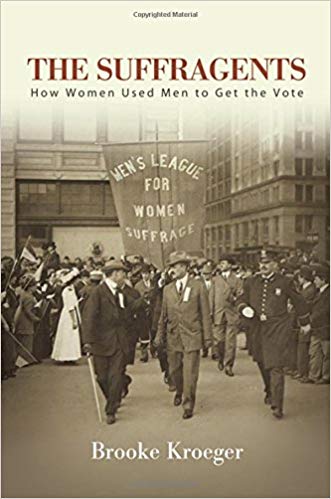 The 2017 publication of the book, The Suffragents: How Women Used Men to Get the Vote by Brooke Kroeger (2017, Excelsior Editions published by the State University of New York Press) sheds light on the male allies of the women activists of the first wave of the women's rights movement.
Although Wilmer Kearns wasn't a prominent leader of the Men's League, the context of his suffrage activism is detailed in this excellent research by Brooke Kroeger. The subject of male suffragists has needed more light and serious research for decades.
Wilmer Kearns participated in the Men's League for Woman Suffrage. He marched in the men's contingents in Votes for Women parades and participated in a wide range of support for the cause including public endorsements and fundraising. When Edna Kearns attended state conferences and participated in critical lobbying campaigns, Wilmer stayed at home and took charge of child care. He answered the phone and mail.
Follow the Suffrage Wagon (SuffrageWagon.org). We have been publishing since 2009. The "Spirit of 1776" suffrage wagon used by Edna Kearns in New York City and on Long Island is in the collection of the New York State Museum in Albany, NY.