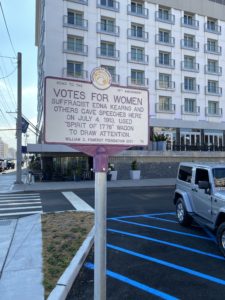 A second street marker on Long Island (NY) has been relocated from the boardwalk to Northern Blvd. in Long Beach, NY. It is part of the national Women's Votes for Women Trail. The marker commemorates the work of Edna Kearns for votes for women organizing there in 1913 that was documented in The New York Times. Robert F. Keeler represented granddaughter Marguerite Kearns in the dedication ceremony speech in 2021.
Edna Buckman Kearns, suffrage activist (1882-1934) tells her story of activism! on Vimeo.
Edna Buckman Kearns was a grassroots suffrage organizer in New York City and Long Island, a Quaker writer and speaker best known for her "Spirit of 1776" suffrage campaign wagon, a symbol of the movement's patriotic protest theme.
PHOTO OF "SPIRIT OF 1776" SUFFRAGE WAGON UNCOVERED IN 2015: Special program on Suffrage Wagon Cafe.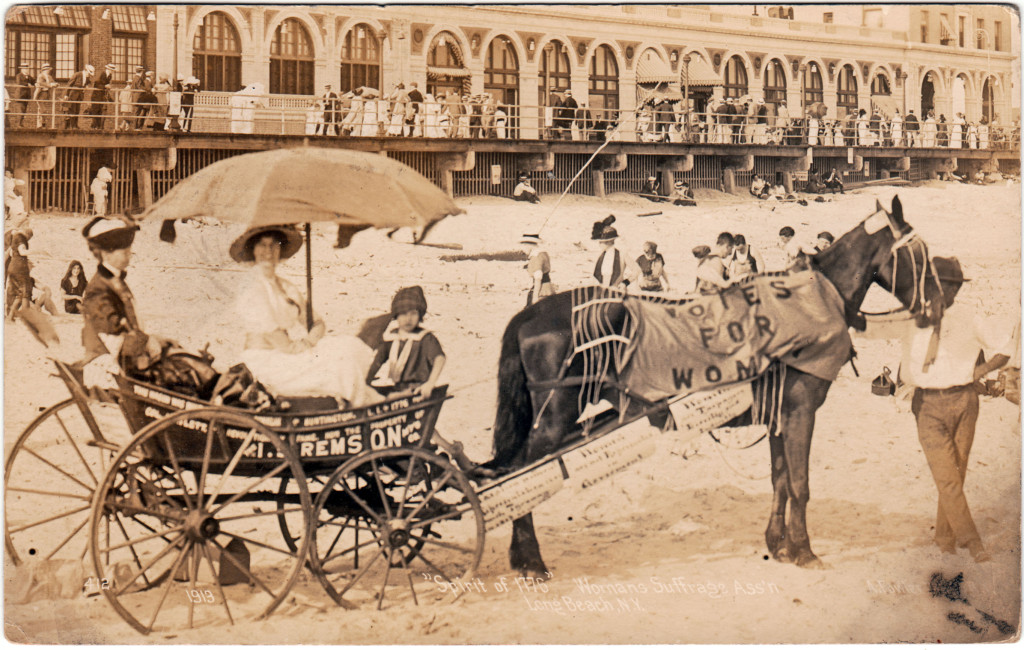 Photo above from the collection of Rose Gschwendtner, July 4, 1913. Long Beach, NY.
Overview of the life of Quaker suffrage activist Edna Buckman Kearns (1882-1934).  PDF  Marguerite Kearns, editor of Suffrage Wagon News Channel, is a journalist and the granddaughter of Edna Kearns. Public radio features Marguerite speaking about Edna and Inez Milholland, America's suffrage martyr.
Edna Kearns (1882-1934) learned newspaper reporting and editing when serving as press chair for New York Quakers. Later, she wrote and edited suffrage news for the Brooklyn Daily Eagle and other New York City metropolitan papers. Edna developed close relationships with news editors who published her many columns and reports. During the 1915 NYS suffrage referendum campaign, she submitted news to as many as 20 papers on Long Island and in New York City.
Photo: Above July 4, 1913 in Long Beach, NY image from the collection of Rose Gschwendtner showing Edna Kearns far left; little Serena Kearns far right and unidentified woman in the middle.
Long Island Votes for Women Campaign on Vimeo. Edna Kearns sitting in horsedrawn wagon with Serena Kearns.
THE SPIRIT OF 1776 HORSE-DRAWN WAGON
Edna Kearns is best known for her horse-drawn "Spirit of 1776" campaign wagon, a suffrage movement symbol of patriotic protest. Kearns hitched a horse to a suffrage campaign wagon called the "Spirit of 1776" and took off from Manhattan to Long Island in early July 1913. The New York Times featured Edna Kearns presenting a "voiceless speech" on Long Beach, NY, published July 5, 1913. The voiceless speech presented in the surf was a novel Votes for Women organizing method. See "Long Beech Crowds Hear Suffragettes Speak in Bathing Costume."
From 1910 to 1920, Kearns worked intensely as a speaker, as a press chair for local and state suffrage campaigns, and a movement organizer on Long Island and in New York City.
ACTIVISM HAD SPIRITUAL AND EQUAL RIGHTS FOUNDATIONS
Edna Kearns and her husband, Wilmer, a "suffragent," were members of the Quaker Meeting at 15th and Rutherford Streets in NYC, as well as the "Friends Equal Rights Association," a group of Quakers who marched under the banner of equal rights in NYC and Washington, DC suffrage parades to insist that everyone be represented in votes for women organizing.
The equal rights association of Quakers or "Friends" had been active since the turn of the 20th century. The influence of the Religious Society of Friends was strong in NY, with other Quakers from other states involved. My grandmother, her mother, and little Serena wore the Quaker bonnet and long dresses when marching in these public suffrage processions.
Wilmer R. Kearns marched in parades in NYC and Washington, DC with the Men's League for Woman Suffrage. When Edna was away for women's rights conferences and organizing activities, Wilmer took responsibility for child care, answering the phone, and household responsibilities. Both Wilmer and Edna considered equality a priority in their own relationship. Wilmer worked as an accountant in Manhattan.
This web platform is dedicated to their work and legacy—and in particular, the "Spirit of 1776" suffrage wagon used for organizing in New York City and on Long Island.
LINKS OF NOTE:
The Suffolk County Historical Society Museum in Riverhead, NY (Long Island) featured Edna Kearns on its web site during March 2020 and Women's History Month. See image below.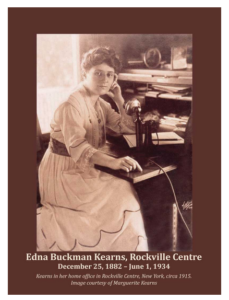 "The Women 's Pages," a podcast from Lynn Sherr and Ellen Goodman about women and the business of newspapers and journalism. Edna Buckman Kearns was in an earlier generation of women writers and suffrage columnists. Sherr and Goodman compare today with the early women's rights movement.The story of Edna Kearns has Woodstock, NY ties.
See 2017 article in Woodstock Times (Woodstock, NY). Marguerite speaks about Edna Kearns in a 2014 podcast by Chick History.
Check out videos highlighting the 1913 maiden voyage of the wagon and its trip from Manhattan to Long Island. Article from New York History blog: "Long Island's Three Wagon Women: Rosalie Jones, Elisabeth Freeman, Edna Kearns. See more information about the wagon on this web site.
Video about Wilmer Kearns, Edna's husband. About Serena Kearns, Wilmer and Edna's first child born 1905. About Marguerite Kearns, manager of Edna Buckman Kearns Suffrage Collection.
Edna Kearns, Wilmer Kearns and the "Spirit of 1776" suffrage wagon after 1920 in Pennsylvania.
Bibliography and resources for Edna Kearns and "Spirit of 1776" wagon. Edna Kearns nominee for 2014 National Women's History Project, Women of Character, Courage and Commitment. Follow Suffrage Wagon News Channel.
In other sources—The 2017 publication of "Women Will Vote: Winning Suffrage in New York State by Susan Goodier and Karen Pastorello (Cornell University Press) notes: "Aside from suffrage leaders, very few workers left detailed records of their activities behind."
This makes the suffrage movement documentation by Edna Kearns and the archive she left behind of interest relative to the tactics valuable for grassroots organizing. Her archive contains few signatures of well-known people. Most correspondence highlights the business of grassroots organizing, including directions to lectures, reactions from the crowd, and the complications of organizing on the local level.
Snapshots from the Life of Edna Kearns on Vimeo.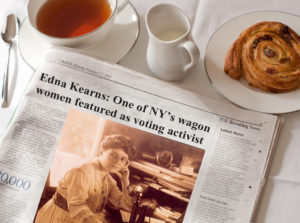 Meet your friends at the Suffrage Wagon Cafe.
Follow SuffrageCentennials.com, our sister site, for news and views about the 100th anniversary of US women working to pass an equal rights amendment to the US Constitution.
"Choose it and Use it" is a video reminding us of how the past is linked to what we do today and its impact on the future.