WILMER KEARNS— A PIVOTAL CHARACTER
Wilmer Kearns. Quaker suffrage activist. (1881-1972). Wilmer Kearns, the grandfather of Marguerite Kearns, plays an important role in this story as he told his granddaughter as a child the stories of the early women's rights movement as he remembered it.
Wilmer Kearns tries to win over Edna with his storytelling. on Vimeo.
Wilmer Kearns: The husband of suffragist Edna Kearns on Vimeo.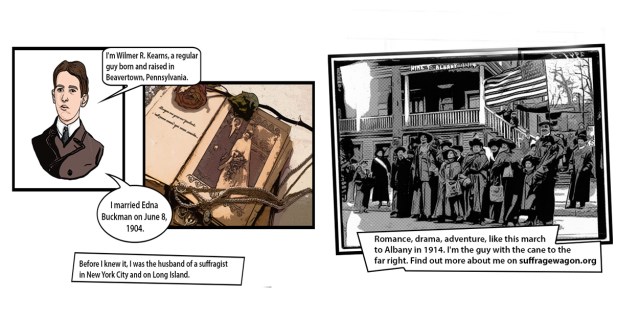 KEY ROLE FOR WILMER KEARNS
An introduction to Wilmer Kearns, husband of Edna Buckman Kearns, NYS suffrage activist and grandfather to Marguerite who told her stories about her late grandmother Edna and got her started on learning about women's activism during the early 20th century.
Wilmer Kearns worked as an accountant in Manhattan. He served as treasurer of the Kearns Motor Car Company and maintained a company office in Manhattan. Today he would be described as a "suffragent," or a male ally of the women's suffrage movement. At the formation of the men's movement, however, the Men's League for Women Suffrage at its chartering stressed only those "name" individuals or publicly prominent individuals. Shortly thereafter, supporters like Wilmer Kearns joined the ranks and made invaluable contributions.
BOOK ON SUFFRAGENTS, THE MEN ALLIES OF THE FIRST WAVE
The book, The Suffragents: How Women Used Men to get the Vote by Brooke Kroeger (SUNY Press, 2017) represents new information now available about men in the movement. This work and others features the uncovering of material that has been added to our knowledge of the voting rights and other campaigning.
After moving from Rockville Centre, Long Island to the Philadelphia area in Pennsylvania during 1920, Edna and Wilmer Kearns founded, owned and operated Echo Dale Gardens near Norristown. Wilmer continued operating the nursery outside of Philadelphia after Edna's death in 1934.
Echo Dale Gardens—nursery run by Edna Kearns & Wilmer Kearns after 1920! on Vimeo.
Follow the Suffrage Wagon. We have been publishing since 2009.