EDNA KEARNS AND HER SUFFRAGE CAMPAIGN WAGON
We stand on strong shoulders.
Suffrage Wagon News Channel is a digital newsletter publishing since 2009. The "Spirit of 1776" campaign wagon used by Edna Kearns in grassroots votes for women organizing in NYS is a symbol of the tireless work of tens of thousands of activists across the US. The wagon has been exhibited in 2010, 2012, 2017-2018, at the New York State Museum in Albany, New York. It is a prime artifact of the early women's rights movement. The wagon is part of the permanent collection at the state museum.
Edna Kearns (1882-1934) was a grassroots activist in the early women's rights movement in the US.
HER DESCENDANTS TAKE UP HER LEGACY
Marguerite Kearns, Ed. Granddaughter of Edna B. and Wilmer R. Kearns. Tara Bloyd is associate editor of SWNC. She is the great-granddaughter of Edna and Wilmer Kearns.
The channel highlights progress on the ongoing memoir (a work in progress) by Marguerite Kearns.
 Be part of the Suffrage Wagon community by way of email, Twitter, and Facebook. Check out our Vimeo video channel. Quarterly newsletter form. 
Follow Suffrage Centennials for upcoming events and celebrations. Wagon graphic by Ray Lund.

"Spirit of 1776" is a nationally award-winning music video honoring Suffrage Wagon News Channel's efforts to restore the early women's rights movement to its proper place in American history. We're persistent in our goal of inspiring, motivating, educating, and entertaining audiences about how we stand on strong shoulders. 
New York State video celebrating the 2017 suffrage centennial.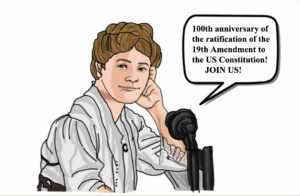 The suffrage activists were "there" for us. Let's be "there" for them by voting and becoming leaders in the world today. 
More information. Find out even more.