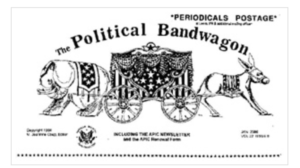 Watch the video below…
Women Voters Thank Their Suffrage Ancestors on Vimeo.
SUFFRAGE ACTIVIST DESCENDANTS TAKE UP THE CAUSE

Marguerite Kearns, Ed., granddaughter of Edna B. and Wilmer R. Kearns.
Contact me at: SUNYbookauthor at gmail dot com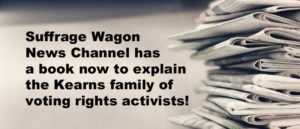 We stand on strong shoulders.
Suffrage Wagon News Channel is a digital newsletter publishing since 2009. The "Spirit of 1776" campaign wagon used by Edna Kearns in grassroots votes for women organizing in NYS is a symbol of the tireless work of tens of thousands of activists, perhaps millions of citizens, across the US. The Kearns wagon has been exhibited in 2010, 2012, 2017-2018, and 2020 at the New York State Museum in Albany, New York. It is a prime artifact of the early women's rights movement. The wagon is part of the permanent collection at the state museum.
Edna Kearns (1882-1934) was a grassroots activist in the early women's rights movement in the US. Wagon graphics by Ray Lund.