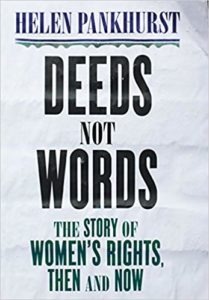 Dr. Helen Pankhurst is the granddaughter of Sylvia Pankhurst whose book, Deeds Not Words: The Story of Women's Rights, Then and Now was released this year, the suffrage centennial observance of women in Great Britain receiving the partial right to vote. Full suffrage was approved in 1928.
There are an estimated tens of thousands of women and men in the United States who are descended from activists from the first wave of the women's rights movement.
A program at Suffrage Wagon Cafe: by Marguerite Kearns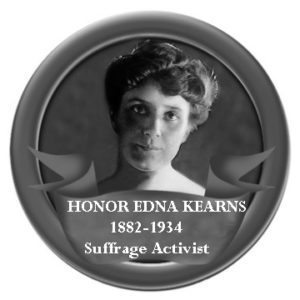 When young, I didn't understand why family members spoke rarely about my late grandmother, Edna Buckman Kearns (1882-1934), a grassroots suffrage activist on Long Island and New York City. No photos of Edna were displayed in my childhood home.
My awareness relied on what Edna left behind after her death —clothing worn in votes for women parades and protest demonstrations; boxes of her activist letters and articles; and a horse-drawn campaign wagon she used for women's rights organizing in 1913 called the "Spirit of 1776."
After I dressed in Edna's old clothing at age ten, my awareness shifted after closing my eyes and listening to my grandfather's stories, a backdrop to my own coming of age. A significant part of the story highlights the bond I had with my grandfather who told me about his life married to Edna and his own involvement in the struggle for women's rights. I put the pieces of the puzzle of my family history together after moving to the town of Woodstock, NY in the years after the 1969 Woodstock Festival.
Follow the Suffrage Wagon at SuffrageWagon.org
Suffrage Centennials are hot. Follow an overview at SuffrageCentennials.com 
Support activities, programs, conferences, and special events during 2020 for the observance of the 100 years of U.S. women voting.
And honor Inez Milholland, the U.S. suffrage martyr. She died for women's right to vote. Follow the Inez centennial blog.