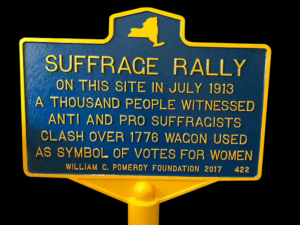 Robert Hughes, the town historian of Huntington, NY, has published an article about the historic road marker on the main street of the Long Island town. He highlights the background of the 1913 controversy involving the suffrage campaign wagon used by Edna Kearns. The road marker, installed in April of 2018, is part of the program funded by the Pomeroy Foundation to place historic signs in communities around New York State. The Long Island Woman Suffrage Association applied for the marker. LINK TO ARTICLE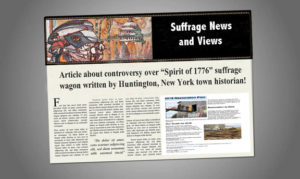 FUNDRAISING UNDERWAY:
Historic preservation and special programs cost money. Here are some of the historic Votes for Women organizations and platforms raising money at this time.
Turning Point Suffragist Memorial. The National Women's Hall of Fame. The Stanton/Anthony statue project in Central Park of New York City. The National Women's History Project. The 1816 Farmington Quaker Meetinghouse.
There's more. But the above are enough to get you started. Suffrage Wagon News Channel has been publishing since 2009.