Become a detective into the past of women's suffrage stories! on Vimeo.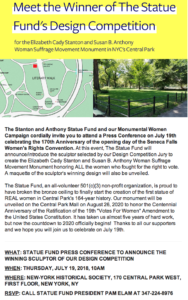 Follow Suffrage Wagon News Channel. We have been publishing since 2009.
NEWS OF NOTE:
Invitations have been sent out for a press conference on Thursday, July 19, 2018 at 10 a.m. to announce the winning sculptor for the Stanton/Anthony monument proposed for Central Park in NYC.
The scheduling of the press conference is intended to observe and celebrate the 170th anniversary of the opening day of the 1848 Seneca Falls, NY women's conference in order to honor all those who participated in the struggle to win the right to vote.
The Central Park statue will be unveiled on the Central Park mall on August 26, 2020 to honor the centennial of US women winning the right to vote through the 19th Amendment to the Constitution. To RSVP,  call Statue Fund president Pam Elam at 347-224-8976.
Convention Days in Seneca Falls, NY this July has some noteworthy events. On July 21, 2018 at 8:30 a.m. interested individuals will gather at the Stanton house in Seneca Falls, NY. At 9:30 the procession will retrace the journey that Elizabeth Cady Stanton made from her home at 32 Washington Street to the Wesleyan Chapel where the 1848 women's conference was held. Participants are asked to carry placards and wear period or all-white clothing. Other activities over the next few days feature original music and presentations by well-known speakers.
Programming for 2020 includes dramatic presentations of those involved in the first wave of women's rights. Last week, for example, Leslie Goddard presented "Alice Paul Winning Votes for Women" at the Glen Ellyn Historical Society in Glen Ellyn, Illinois in partnership with the Lombard Historical Society. Many others around the nation are stepping up to the plate.
Stop by our other suffrage friendly web platforms: SuffrageCentennials.com and LetsRockTheCradle.com