Chef Ted Cutting pays a visit to Suffrage Wagon Cooking School! on Vimeo.
Chef Cutting stopped by our cooking school to see how we're doing. He has been responsible for some great demonstrations, including how to make a terrific cup of coffee. At Suffrage Wagon Cooking School we test vintage recipes to see how they hold up today. Stay in touch with our recipes and demonstrations.
UPDATES FROM SUFFRAGE WAGON NEWS CHANNEL:
WomensActivism.NYC is creating a digital archive listing women identified activists from the past and present. This initiative is intended to coincide with the 2020 centennial when US women will have been voting for 100 years. This open crowd-sourced archive will be maintained on a permanent basis by the New York City Department of Records and information services (DORIS) DORIS is committed to provide public access to information by highlighting stories of those who have been historically excluded from the dominant narrative.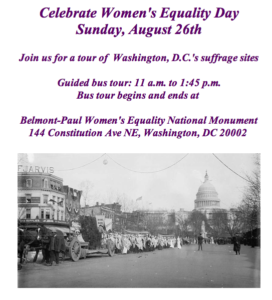 A bus tour limited to 52 guests will leave from the Belmont-Paul Women's Equality Monument in Washington, DC on August 26, 2018—Women's Equality Day. A ticket includes a self guided tour of the Belmont-Paul monument that was formerly the headquarters of the National Woman's Party. The narrated bus tour will follow the route taken during the 1913 suffrage parade from the Belmont-Paul historic site to Lafayette Square. There is a narrated walking tour of the Congressional Cemetery and much more. A book signing by Rebecca Boggs Roberts and box lunch included in the tour. Contact the Belmont-Paul historic site for more information.
The lllinois News Room recently ran an article about a conference presented by the American Political Items Collectors (APIC) that focused on memorabilia from the first wave of the women's rights movement, also known as the suffrage movement. There's more of a demand for suffrage memorabilia, the article notes. And prices are higher than they used to be. Author Kenneth Florey was there. A well-known collector of suffrage memorabilia, Florey has written articles for Suffrage Wagon News Channel. He noted the increased interest and related higher costs in suffrage movement items. Florey has written several popular books on suffrage memorabilia published by McFarland press.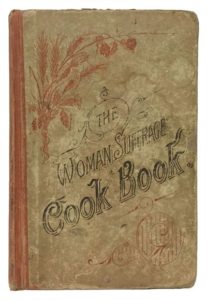 Visit our Vimeo channel for videos and special announcements.
Follow  SuffrageCentennials.com for news and views about upcoming suffrage centennials. 
"Choose it and Use it" is a video reminding us of how the past is linked to what we do today and its impact on the future.
Check for updates about Inez Milholland, the US suffrage martyr. InezMilholland.wordpress.com
Marguerite Kearns is host at Suffrage Wagon Cafe. Suffrage Wagon News Channel has been publishing since 2009.