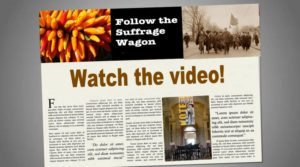 Gravestone Dedication at grave of Edna Buckman Kearns! on Vimeo.
MARGUERITE KEARNS AND JOYCE ROUSE—TWO QUAKER WOMEN COLLABORATE WITH MEMORIES AND MUSIC
On October 1, 2020 we're launching a full month for the gravestone dedication ceremony for Edna Buckman Kearns and her parents (May and Charles Buckman) at the Quaker burial ground in Plymouth Meeting, PA.
Check this web site for an announcement of a live Zoom dedication ceremony at the grave site of Edna Buckman Kearns, Quaker suffrage ac tivist.
Check in anytime during the month of October for the month-long observance. SuffrageWagon.org/BurialGroundDedication
THERE IS A QUARTERLY NEWSLETTER FOR BUSY FOLKS!
Sign up for Suffrage Wagon News Channel Newsletter on Vimeo.
Suffrage Wagon News Channel has been publishing since 2009.