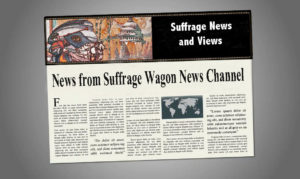 There are thousands of descendants of the first Buckmans to the Philadelphia area in 1682. Writing a memoir about my grandparents, Edna and Wilmer Kearns, relies on hundreds of sources, interviews, oral history, legends, and more. During the 1980s, I became president of the Buckman Family Reunion, an introduction to the overview of one branch of the Buckman family. That experience hooked me.
Keeping track of all the descendants hasn't been easy, even for one isolated family branch like Thomas Buckman and Ann Comly. Thomas was in the sixth generation of Buckman descendants of Quakers from Sussex, England (the largest family group on the ship Welcome with William Penn).
Informal Buckman family reunions were held at the home of Thomas Buckman and Mary Ann Brooke Buckman until the family reunion was formalized by Mary Ann Brooke Buckman in 1913. These gatherings continued for more than 75 years during the twentieth century. The Buckman family reunion brought together one branch of the Buckman family that met for reunions in Bucks County from 1913 through the 1980s. During the 1960s and 1970s when the momentum of holding annual family reunions was on the decline, Caroline Watson Warner (daughter of Jenny Buckman) and Warner's cousin, Hazel Buckman Errico, poured energy into the reunions until Caroline Watson's death in March of 1986.
Then Elsie Warner Wright of Yardley, PA and her sister Jean Nolte took over organizing the annual sessions until the reunions ended during the 1980s. "Not many of us were left," Elsie Wright said. Over the years, the Buckman Family Reunions met at various Quaker meetinghouses in Bucks County where ancestors had once been members, in addition to other locations including family farms, Pennsbury Manor (the former home of William Penn), as well as the Bucks County family farm of Elsie Warner Wright, one of the five remaining working farms in Makefield Township, Bucks County, as of 2019.
This working farm located at 1878 Newtown-Yardley Road has been operational since 1928. The last Buckman Family Reunions of the twentieth century were held at Makefield Monthly Meeting in Dolington, PA and at the Wright farm. The family reunion collection contains a list of Buckman descendants gathered by reunion volunteers, as well as a 75th anniversary issue newsletter with memories of prior reunions, a favorite reunion recipe, and profiles of key reunion participants.