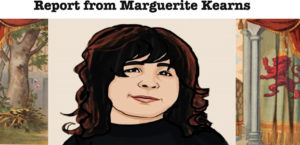 by Marguerite Kearns
I've written a book, not only about my grandmother Edna Buckman Kearns, but also what it was like to be the descendant of votes for women campaigning activists—Edna B. Kearns and Wilmer R. Kearns.
It's a legacy for me that goes back to childhood when I laid in bed afternoons. after school, and thought about how much I wished I'd known my grandmother. I asked questions, and that's how the storytelling started with my mother and grandfather. Years later, I delved into action and took seriously my grandparents' involvement in the early women's rights movement. This manifested in getting the "Spirit of 1776" wagon out of my grandfather's garage and back to New York State. Today's it is on permanent display at the New York State Museum in Albany, NY.
Being the descendant of suffrage movement activists has defined my life.
NEW ARRANGEMENT OF "STANDING ON THE SHOULDERS" BY COMPOSER JOYCE ROUSE
OTHER SUFFRAGE ACTIVIST DESCENDANTS HAVE BEEN WRITING BOOKS,  SUCH AS HARRY T. BURN'S GREAT GRAND-NEPHEW!
Harry T. Burn's great grand-nephew, Tyler Boyd, has been discussing his book, "Tennessee Statesman Harry T. Burn: Woman Suffrage, Free Elections & a Life of Service." The work from The History Press highlights how Burn, the McMinn County resident, is best known for casting the tie-breaking vote in the Tennessee legislature to ratify the 19th Amendment and enfranchising millions of American women. Burn's other accomplishments include running for governor, writing successful legislation to prevent election fraud, advocating for lowering the voting age, and fighting for equal apportionment of the then rural-dominated state legislature. The emphasis is on Harry T. Burn's accomplishments rather than the impact of the author being the descendant of a pivotal character in the early women's rights movement. It's an insightful discovery of the larger context of Harry Burn's life.
ANOTHER DESCENDANT FOCUSES ON THE LIFE OF CLARA COLBY
John Holliday, an Australian resident, was ready to leave for the United States in 2020 to discuss his ancestor Clara Colby when the pandemic kept him at home in Australia.
WHAT'S GOING ON AT LETSROCKTHECRADLE.COM
Follow the suffrage wagon at Suffrage Wagon News Channel.