SUFFRAGE CENTENNIALS HAS BEEN REPORTING FOR YEARS!
Articles about Charlotte Perkins Gilman. Part 1. Part II. Woodstock, NY town board passed resolution to celebrate 2017 suffrage centennial.
Young people are getting behind national suffragist memorial. August 26th is the women's Fourth of July. Suffrage Centennial news notes gaining momentum. Special report about 1848 Seneca Falls conference. Events related to Elizabeth Cady Stanton during her 200th birthday year. VIDEO: Library of Congress archival suffrage movement photos.
TEAM WORK HAS BEEN GOING ON BEHIND THE SCENES FOR YEARS
Suffrage Centennials won award as nonprofit blog. Isabella Beecher Hooker, a book and places to visit. Go behind the scenes of suffrage centennials. Suffrage centennial news notes during Women's History Month. A national women's heritage trail has 2020 suffrage centennial as a goal. Suffrage memorial fundraising launched with 2020 suffrage centennial in sight. Big birthday bash planned for Elizabeth Cady Stanton's 200th birthday in 2015. See also.
Suffrage movement icon has her own museum: Joan of Arc. Celebrate with Susan B. Anthony's 195th birthday party. "Up the Women," the suffrage movement sit com from the UK. January birthdays of women's rights activists link to centennials and other celebrations. Susan B. Anthony's February birthday inspires travel, celebrations, and a feature post by suffrage history author Kenneth Florey.
NEWS ARTICLES SHOW DEVELOPMENT OF 2020 VOTES FOR WOMEN ADVOCACY
Long-awaited book with six-figure advance about English suffragette, Princess Sophia, published by Bloomsbury. "100 Years Ago" is special feature. 2015 inaugural speech of NYS Governor Andrew Cuomo hints of good news for upcoming 2017 suffrage centennial. Good news for suff fans in 2015. Release date for "Suffragette" feature film from the UK. Throw 5 pennies into the wishing well for suffrage centennials. 2015 wish list for Suffrage Centennials.
Centennial of National Park Service in 2016 involved direction for women's rights sites. The Harriet Tubman proposed national park. The "Votes for Women" heritage trail and making it a reality. First observance of the "Night of Terror" to raise money for suffragist memorial.  Vision 2020 prepares for national centennial. Will the controversy over the women's museum impact the 2020 suffrage centennial? Challenges when promoting suffrage centennials. Public panel discusses upcoming 2020 suffrage centennial.  "Suffrage Centennial Overview." Suffrage centennial network. "Suffrage centennials are hot." Stanton and Anthony statue proposed for NYC Central Park in light of 2020 suffrage centennial.
SUFFRAGE EVENTS
Elizabeth Cady Stanton performance. Magic and the suffrage movement go together in this program idea. Bernice Ende offers suffrage slide show. "The Yellow Wallpaper" theatrical presentation. "What's a suffrage centennial without a pot of tea?" Suffrage musical in UK. Youth plant tree to recognize Emily Davison centennial. Planning a suffrage centennial event is easier when consulting the SuffrageCentennials archives.
STORIES ABOUT VOTES FOR WOMEN
Story of the July 4th suffrage movement co-conspirators. Audio reading of the 1915 book, "How it Feels to be the Husband of a Suffragette." Excellent suffrage movement web educational module from partners AAUW and Newseum. Book about Inez Milholland features important photos and stories new to the reading public. Tales of suffragists who didn't let grass grow under their feet. "Trouble Brewing in Seneca Falls" audio podcast series. How suffrage activists crashed the 1876 national centennial on July 4th!" Centennial of burning of hotel by English women. Centennial of release of "The Militant Suffragette" by Charlie Chaplin. Centennial of suffragist Caroline Severance's death. The Amazons of the suffrage movement, a trilogy. Centennial of Harriet Tubman's death. #1 #2  Centennial year of destruction of Margaret Fuller memorial on Long Island. NYS Legislature resolution celebrating "Spirit of 1776" suffrage wagon centennial.
SUFFRAGE RESOURCES
National Women's History Project. Resources for teaching about history.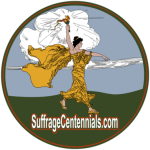 Follow SuffrageCentennials.com on Facebook page, Twitter, email subscription, and the Quarterly Newsletter. Sign up for email on this web page. Stay up to date with postings, audio podcasts, and videos. Plan for your suffrage centennial event.