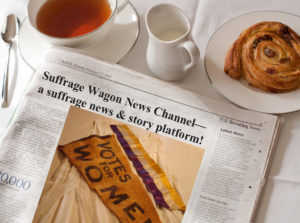 The Monumental Women's Statue Fund is redesigning the statue featuring pioneering women's rights advocates and will be the first statue depicting real women in the 165-year history of New York City's Central Park.
The amended design includes Susan B. Anthony, Elizabeth Cady Stanton, and Sojourner Truth.  All three were New Yorkers and contemporaries. In the amended design, nationally-recognized sculptor Meredith Bergmann shows Anthony, Stanton, and Truth working together in Stanton's home, where it is historically documented they met and spent time together.
The NYC Public Design Commission must review the amended design of the statue, which will be unveiled on The Mall in Central Park on August 26, 2020, the 100th anniversary of the ratification of the 19th amendment, when women constitutionally won the right to vote. Next year is also the 200th anniversary of Susan B. Anthony's birth.
The Monumental Women's Statue Fund was officially organized as a not-for-profit group in 2014 with the initial goal of breaking the bronze ceiling and creating the first statue of real women in Central Park with other statues planned throughout New York City.  Monumental Women has the further goals of increasing awareness and appreciation of women's history through a nationwide education campaign.
Elizabeth Cady Stanton and Susan B. Anthony spent much of their 50 year activism relationship working and living in New York City.  In 1863, they founded the Women's Loyal National League here which was dedicated to the abolishment of slavery.  They collected hundreds of thousands of petition signatures urging President Abraham Lincoln and Congress to immediately end slavery through the 13th Amendment. In 1866, Stanton was the first woman to run for Congress, in what was then the Eighth Congressional District in New York City.  Stanton and Anthony published The Revolution, a weekly newspaper about women's rights from 1868-70, founded the National Woman Suffrage Association in 1869, and organized and attended countless conventions, rallies and meetings dedicated to women's rights and suffrage over the decades – all in New York City.  Stanton and Anthony also loved Central Park.  Anthony took long walks in the park and Stanton played with her children there.
Sojourner Truth, was born into slavery in Ulster County, New York in 1797. She went on to become one of the most powerful advocates for human rights in the nation. She escaped from slavery in 1827 and later joined the abolitionist movement.  She lived in and around New York City from 1828 to 1843. By the 1850s Sojourner Truth joined the fight for women's rights as well.  At the 1851 Women's Rights Convention held in Akron, Ohio, Truth delivered what is now recognized as one of the most famous abolitionist and women's rights speeches in American history, "Ain't I a Woman?".
Sojourner Truth, Susan B. Anthony and Elizabeth Cady Stanton often attended the same meetings and conventions and spoke on the same stages. Historical records show that Stanton and Anthony sent letters, messages, and invitations to Sojourner Truth and that they often supported one another in their work.
To learn more about Monumental Women or to get involved, visit: monumentalwomen.org
SAFIYA BANDELE PRESENTS PROGRAM ON IDA B. WELLS