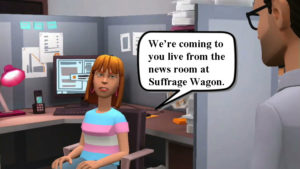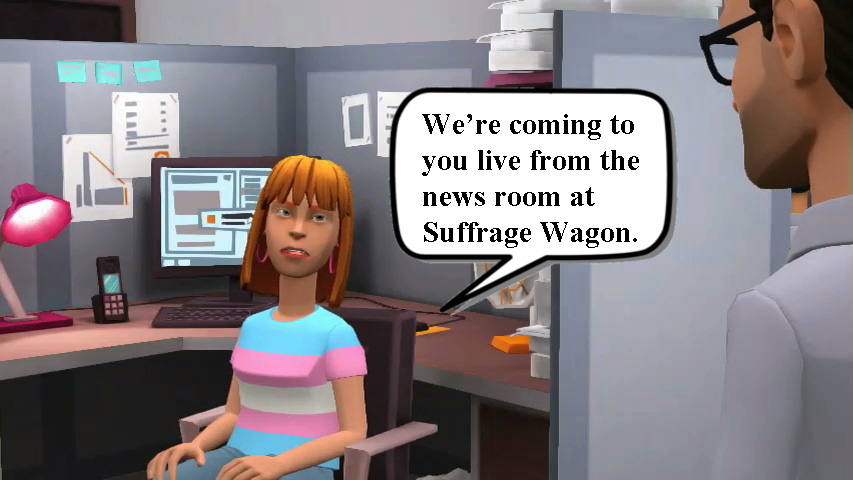 by Marguerite Kearns
It was difficult asking my mother about my grandmother Edna without starting with the old horse-drawn wagon stored in my grandfather's garage. Few family members could talk about this historic artifact without the narrative about the wagon becoming coming loose, its wheels increasingly fragile like the suffrage parade dresses and sashes my grandmother Edna left behind.
I pulled one thread of the wagon story and another antique stitch broke and released another story, sometimes not directly about the wagon itself, but often related. And soon, so many unraveled stories poured from the wagon's platform that I felt overwhelmed. It took me decades to sort through the tale of my grandmother's wagon as well as other family legends until the investigative journey of a lifetime brought me up to the present day.
BRINGING A PERSONAL STORY OUT INTO THE PUBLIC OF A SUFFRAGE WAGON
More than a straight historical account, the story I'm telling in written form traces the trail of revolutionary spirit that started with a prior generation of women and men, persistent and determined individuals, and continues with their spirit of protest passed down over the decades to successor generations to our own day.
My quest was launched as a child when listening to my grandfather's stories about Edna, as I sat, perched on a chair in his kitchen, and later expanded, as an adult, through research, the exploration of scholarly works, and a close examination of family legend and storytelling. On occasion, I felt like an amateur detective fitting together pieces of an enormous puzzle.
SPECIFIC FACTS ABOUT THE SUFFRAGE WAGON AND MORE…
This memoir and family history, I believe, features a portrait of my grandparents' lives and by extension, it depicts how tens of thousands of activists stepped forward to lay down foundations that others could later build on. This journey of discovery has also played an important part for me in understanding why I am the way I am. A memoir and family history involves starting at one point and ending at another. It isn't the entire story of my life, nor of my grandparents, but it has involved chasing a tale until all of its pieces can be assembled into a more or less straight line.
As I write what happened so long ago to Wilmer, Edna, and me, more stitches holding the story together are released until the parade and protest dresses my grandmother once wore have been transformed into long lengths of delicate fabric.
SPECIAL PROGRAM AT SUFFRAGE WAGON CAFE IN AUGUST!
Yes, Suffrage Wagon News Channel continues the countdown through 2019 that's a buildup to 2020 and the 100th anniversary of the 19th Amendment to the US Constitution. Stay tuned!