BREAKING NEWS:
Long Beach, New York will be commemorating Edna B. Kearns and the suffrage wagon this month with the unveiling of a historic marker on its beach where the suffrage activist took her entourage onto the beach to reach bathers and tourists and curiosity seekers in July of 1913. The details of the ceremony will be posted here. The Long Island Woman's Suffrage Association has been busy behind the scenes to make this happen. And they have also kept the public aware of their activities by marching in the Glen Cove parade this year.
STORY ALERT FROM SUFFRAGE WAGON NEWS CHANNEL: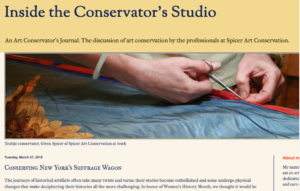 The story of the "Spirit of 1776" suffrage wagon is a story behind the story. The wagon didn't just show up in the collection of the New York State Museum in Albany, NY. It took a while to get there, and the preparation period apparently has been worth preserving along with this relic of the first wave of the women's rights movement in the US.
Conservators have their job to do, and this is a terrific example that grounds the "Spirit of 1776" suffrage wagon in local and state history.