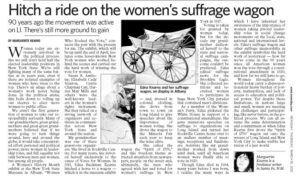 The above Newsday clip is from long ago when the idea of permanent exhibition of the "Spirit  of 1776" suffrage campaign wagon used by Edna Buckman Kearns was  in the very early  stages of planning by NYS Museum personnel. Now,  permanent exhibition is planned for 2024, and we're thinking about the possibility now.
Our interest is manifested in a Votes for Women game that may be just what you're looking for—a gift for a family member who loves games and may have shown an interest in recent years in the wave of votes for women activism generated from 1910 to 1920.
We've been blogging since 2009 about the "Spirit of 1776" suffrage campaign wagon. And folks have been expressing their support of the state museum moving forward on permanent exhibition.
And now, the Votes for Women game.

The above video from YouTube provides some of the details. If you order it now, it will arrive well in time for the holiday season. Let us know what you think!
Suffrage Wagon News Channel (SuffrageWagon.org) has been publishing since 2009.