If you haven't seen the "Spirit of 1776" wagon on exhibit, here's your chance! on Vimeo.
SIX-PANEL TRAVELING EXHIBITION AVAILABLE FOR TRAVEL IN NYS
Votes for Women Traveling Panel Exhibition The New York State Museum plans to create a six-panel traveling exhibition based on the larger Votes for Women exhibition that can travel to smaller venues around New York State. The panel exhibition will be ready to travel statewide beginning in 2017. Venues that are interested in borrowing this exhibition should contact Jennifer Lemak at the New York State Museum: Jennifer.lemak@nysed.gov #518-474-5842
"SPIRIT OF 1776" SUFFRAGE WAGON
Next on exhibit at the New York State Capitol in Albany, New York during March 2017.
DONATE PHOTOS, PLACARDS, AND ARTIFACTS FROM JANUARY 2017 WOMEN'S MARCH
Museums and archives in the U.S. and U.K. are collecting signs, placards, photographs, and artifacts from the 2017 women's march on Washington. The Smithsonian National Museum of American History in Washington DC and the New York Historical Society are among the institutions in the U.S.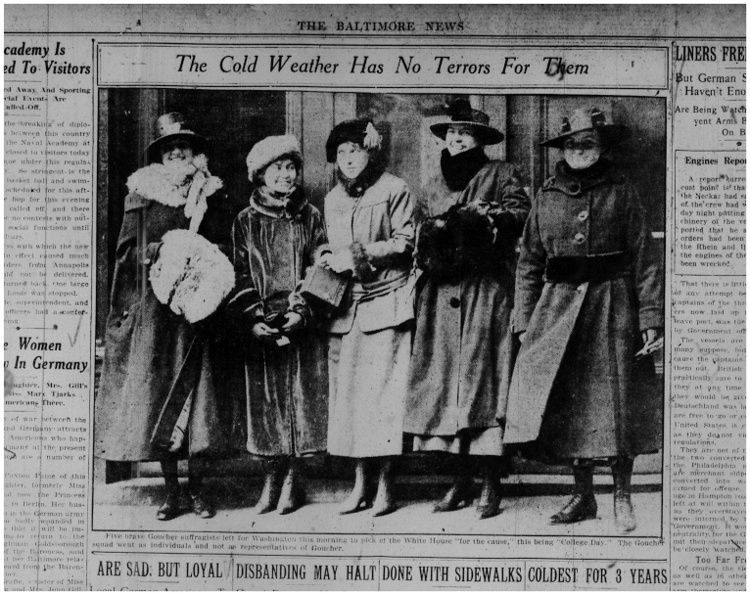 ONE OF MANY 2017 SPECIAL SUFFRAGE EVENTS:
February 3, 2017 marks the centennial of the College Day picket of women suffragists on the White House. The College Day picket was one of the many pickets in front of the White House organized by the National Women's Party to demand the right to vote for women. Despite controversy and disapproval by Goucher College's administration, thirty Goucher students enrolled in the Baltimore, Maryland institution participated in the picket.
To commemorate this anniversary, the Goucher College Library presents a public program, "A Nursery for Militant Suffragists": The History of the Women's Suffrage Movement at Goucher College, to be held on Thursday, February 2, 2017 at 7 p.m. in the Batza Room of the Athenaeum. The program will feature Goucher alumnae and students presenting their original research on the history of Goucher's involvement in the women's suffrage movement. Their talks will highlight the role of notable alumnae and faculty in the movement as well as the college's role in the local and national campaigns for voting rights for women. Research made possible through support from Class of 1960 Rhoda M. Dorsey Archives Endowment and Brooke and Carol Peirce Undergraduate Research Endowment. Event sponsored by the Friends of the Goucher College Library.
Marguerite Kearns is host at the Suffrage Wagon Cafe.
Visit our Vimeo channel for videos and special announcements.
Follow  SuffrageCentennials.com for news and views about upcoming suffrage centennials. 
"Choose it and Use it" is a video reminding us of how the past is linked to what we do today and its impact on the future.