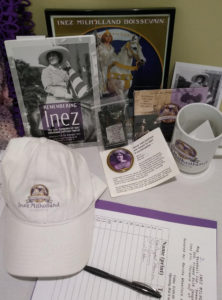 UPDATE ABOUT INEZ MILHOLLAND
United States suffrage martyr Inez Milholland had a presence at the conference of the Women's History Alliance in January 2019 when participants from across the nation gathered in California to showcase their special projects and network. Find out more.
MINIATURE OF CENTRAL PARK ANTHONY AND STANTON STATUE ON DISPLAY
In celebration of the more than 100 years of women voting in New York State, the NYS Museum in Albany, NY is exhibiting a model of the statue of Elizabeth Cady Stanton and Susan B. Anthony. The statue will be unveiled in New York City's Central Park in 2020, the first statue in the city park to honor women.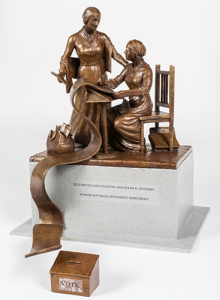 The fund for the Anthony and Stanton statue model was created in 2013. Meredith Bergmann's design was chosen in 2018. The working model of the statue will be on display at the state museum through March 31, 2019.
The Anthony and Stanton statue is a source of controversy. Others view it as a major step forward in bringing the first wave of the women's rights movement out of obscurity.
IN OTHER NEWS:
There is a connection between the 50th anniversary of the 1969 Woodstock Festival in 2019 and the "Spirit of 1776" suffrage wagon. Find out more.
Subscribe to Suffrage Wagon's quarterly newsletter.
LetsRockTheCradle.com is a media resource for the 2020 centennial of the ratification of the 19th Amendment to the US Constitution. SuffrageCentennials.com highlights the many events and scheduled programs.
Suffrage Wagon News Channel has been publishing since 2009.