VIDEO ABOUT EDNA BUCKMAN KEARNS:
Edna Buckman Kearns reflects on her past & the "Spirit of 1776" wagon! on Vimeo.
Edna Buckman Kearns is best known for her "Spirit of 1776" wagon that is in the collection of the New York State Museum in Albany, NY. There is much more to her story.
The book, Women Will Vote: Winning Suffrage in New York State by Susan Goodier and Karen Pastorello (1917, Three Hills, an imprint of Cornell University Press) includes Edna Kearns as an example of the social activists of the early 20th century known for their innovative tactics and strategies that gained public attention during the first wave of the women's rights movement.
Noted the authors on p. 127 of the work: "Another woman who personified the new woman, the Long Islander Edna Buckman Kearns, also had a gift for attracting suffrage publicity. Often the creative endeavors of the New York suffragists caught the attention of newspapers elsewhere in the country. No longer forced to choose between activism and homemaking, the new woman could do both. One example of this is the day that Kearns up up seventeen cans of peas and six jars of raspberries before she made a "good speech" at a suffrage meeting. Women in the audience asked her how she had managed the peas, and several subsequent articles in various newspapers around the state reported that Kearns clearly made the point that she could give suffrage speeches and fulfill her responsibilities as a homemaker. Yet, she had a more independent streak as well. Usually accompanied by her young daughter, Serena, she often traveled to meetings or participated in parades riding in an old wagon, using the wagon as another way to draw attention to the movement."
Women Will Vote: Winning Suffrage in New York State is an easy read. Its solid and well researched content brings out new ways of viewing and understanding the background, successes, and disappointments of the first wave of women's rights activism. It focuses in a new way on revealing subjects including rural women, working-class immigrant women, black women, male suffragists, and radical women.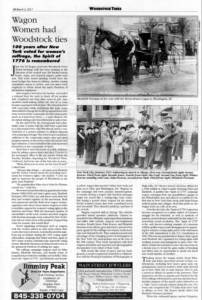 Article in Woodstock Times, March 8, 2017 highlights the use of the horse-drawn wagon used by Edna Kearns and others in grassroots organizing.
Marguerite Kearns, the granddaughter of Edna Kearns, is writing a memoir about what it has been like to have grown up as the descendant of a suffrage activist. Suffrage Wagon News Channel been publishing about this story since 2009. Hopefully we'll have a written personal story to go with it.
For more information about Edna Buckman Kearns on this web platform.
Follow the Suffrage Wagon at SuffrageWagon.org
Check out suffrage-friendly blogs:
SuffrageCentennials.com is our sister site. US women have been working for 100 years to move along an equal rights amendment to the US constitution.