Books from Suffrage Wagon Book Shelf on Vimeo.
THANK YOU TO THE NEW YORK STATE MUSEUM in Albany, NY for extending the exhibition of the "Spirit of 1776" suffrage wagon past the closing of the Votes for Women exhibition in May of 2018. More people were able to see it, and for this, we're deeply appreciative. The wagon is back in the museum warehouse, resting. It will be exhibited again in 2020. And for this, we're excited and look forward to the wagon's next journey out in public!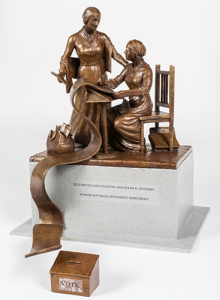 The NY Historical Society at 170 Central Park West, NYC (10024) will exhibit the design for the Central Park Stanton/Anthony statue by Meredith Bergmann during late August 2018 in honor of Women's Equality Day. Bergmann's design was chosen from over 90 designs submitted.
The National Women's History Project has announced a campaign to make August 26th a federal holiday because there are no federal holidays commemorating women.
Take advantage of the time left in 2018 and through 2019, leading up to the 2020 celebration of the 100 years since U.S. women won the right to vote in 1920. That will be the 100th anniversary of the 19th Amendment. There are more books about the first wave of the women's rights movement than ever before, in addition to videos and films.
BOOK UPDATES:
One of the books for young readers is "Bold and Brave: Ten Heroes Who Won Women the Right to Vote" by Senator Kirsten Gillibrand and Maira Kalman due to arrive in book stores in November 2018. Another book is "Roses and Radicals: The Epic Story of How American Women Won the Right to Vote" by Susan Zimet and Todd Hasak-Lowy which is available now. It received great reviews in the New York Times, the Chicago Tribune, and other publications. We can't even begin to list here and promote every book for adult and young audiences, but we feature a representative sampling whenever possible. If you have a recommendation for coverage, get in touch with us at SuffrageWagon @gmail.com
IN OTHER NEWS:
On August 14, 2018 a special program will be held at the Crandall Public Library in Glens Falls, NY (251 Glen St.) from 6:30 to 8:30 p.m. Dr. Susan Goodier is the speaker. Goodier, a PhD, lecturer in the History Department at SUNY Oneonta, participated in a National Eat Carthage College, Kenosha, Wisconsin conference this summer. The emphasis of the seminar was on the "intersections between class, race, gender, and transnational organizing."
There's a terrific article by Linda McKenney on LetsRockTheCradle.com about Susan B. Anthony: Part I of "Gratefully Becoming Susan."
SuffrageCentennials.com has events, news, trends, and special programs. LetsRockTheCradle.com highlights actions and special features.