How Bess got in trouble for reading Mary Wollstonecraft! on Vimeo.
Bess was Edna's best friend when they lived in Germantown, a part of Philadelphia. And she plays an important part in the story about Edna and Wilmer Kearns, my grandparents. Mary Wollstonecraft's book about women in the 1700s was a cutting edge work that influenced women of her time and thereafter. One story circulated in Philadelphia that Quaker activist Lucretia Mott kept Wollstonecraft's book handy on a table in her home to refer to passages she had memorized.
The problems for Bess started when her parents discovered a forbidden book under her bedroom mattress. 'A Vindication of the Rights of Woman' by Mary Wollstonecraft (1792) started Bess on the path of finding other books that presented the idea that women and men could be equal. But to find support, Bess had to raid the school and public library. Before long, Bess had shared Mary Wollstonecraft with all her friends.
IN OTHER NEWS:
Crandall Public Library in Glens Falls, NY is celebrating its 125th anniversary. To honor the occasion, there's a "Votes for Women: Why Did it Take So Long?" lecture by suffrage historian, Susan Goodier on Tuesday, August 14, 2018 at 6:30 p.m. in the Christine L. McDonald Community Room at Crandall Public Library.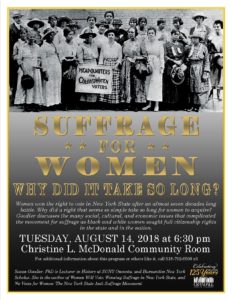 The New York Times continues its coverage about women's history and the attempt by communities, large and small, to put up statues commemorating women. A reader survey resulted in a list of ten women who would be considered candidates for statues of commemoration. The gender reporter for the NY Times is interested in women's statues and she has issued a call to readers to suggest a statue in their own community.
Mary Wollstonecraft is included on a list of influential women in the world in recent surveys such as one conducted by the BBC. Wollstonecraft made an impact on the first wave of women's rights activists in the US as the story about Bess and Edna illustrates.
The Alice Paul Institute in its recent newsletter reported that the organization exceeded its matching donation goal. API not only met its fundraising goal of $10,000, but exceeded it by $5,000, thus raising a total of $25,000. The organization named after suffrage activist Alice Paul says it is responding to the increasing demand for teen leadership programs. The organization is housed at Paulsdale, the former home of the Paul family, in New Jersey. There is a Preserve Paulsdale Fund, as well as an informative general web site.
Suffrage Wagon News Channel has been publishing since 2009. We are headed in the direction of our tenth year.
https://www.linkedin.com/in/marguerite-kearns-74a06910