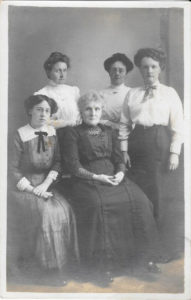 Elizabeth Crawford, who posts on "Woman and her Sphere," presents the Hodgson sisters and their suffrage souvenirs. Her new catalog (No. 198) includes the memorabilia collected by the Hodgson family of the suffrage movement in England.
Notes Crawford in her July 30, 2018 post: "As with the Stevenson Sisters, about whom I wrote about last week, no family memory remained of the involvement of Edith, Florence and Grace in the suffrage movement – nor, indeed, anything else of their lives – the fate, as I've mentioned before, of the maiden aunt. It is only since one of Mabel's descendants took the Collection to an auction house that something of their story has slowly been revealed."
If you would like to receive a copy of the catalogue containing the Hodgson Collection, email elizabeth.crawford2017@outlook.com
If you sign up with Elizabeth Crawford, you will be able to read her fascinating and informative posts and you'll have access to rare books and movement items listed in her periodic catalog updates.
A similar fate of invisibility met many US first wave activists that resulted in votes for women memorabilia being thrown or given away. Elizabeth Crawford specializes in the histories of suffrage activists in the UK and what they left behind in terms of research, stories and memorabilia. Sign up with her blog. womanandhersphere.com
There were close ties between the voting rights movements in England and the United States.
IN OTHER NEWS:
In April 2019, American Journalism, a journal of media studies, will present a special issue entitled "Women's Suffrage and the Media," a centennial commemoration for 2020.
Suffrage Wagon Cafe has a special program scheduled for August 26th—Women's Equality Day. Follow posts as they happen by signing up on the home page of Suffrage Wagon News Channel.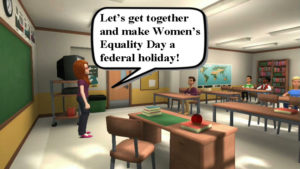 Stay current with the first wave of the women's rights movement in the US. Follow Suffrage Wagon News Channel. Publishing since 2009.
Check out our sister blog about Inez Milholland, the US suffrage martyr.
It's extremely important to join the Women's History Alliance. One of its priorities is making August 26th (Women's Equality Day), a federal holiday. Contact the National Women's History Project for more information.