SUFFRAGE VIRTUAL RACE ON NOVEMBER 1, 2020 BUILDS STRENGTH, CHARACTER, STAMINA!
Watch Suffrage Wagon News Channel for details of the free #SufferingforSuffrage race. An event for participants of all abilities.
OUR GOAL IS TO KEEP OUR CONCERNS IN THE PUBLIC AWARENESS!
It's not easy continuing to work in your chosen area of concern with the social uncertainties, mass unemployment, and an uncontrolled pandemic. Partisan politics is the order of the day, and not every event is considered newsworthy.
To continue on your path, so much depends on planning and persistence. This special program at Suffrage Wagon Cafe uses the example of July 1, 2013, Wagon Day, that was created by both houses of the NYS Legislature. This attracted some media attention. Keeping issues alive, however, became one of the most persistent challenges of the advocacy campaign relative to the horse-drawn antique wagon as well as gaining attention for the early women's rights movement.
KEEPING ISSUES ALIVE CAN BE A DIFFICULT STRATEGY TO PURSUE
We love instant gratification. Keeping the issues alive during a down period when public attention is attracted in varied directions is just as important as the flash of media attention. When news was limited for Inez Milholland, the US suffrage martyr, her appearance in the PBS special "The Vote" earlier this month added to the pubic awareness. It became another example of keeping an issue alive.
KEEP THE FAITH, EVEN DURING DOWN PERIODS!
We visualize Inez Milholland being inducted into the National Women's Hall of Fame, for example. We support the production of another short film about Inez that is underway right now.
When bi-partisan resolutions were introduced into both houses of the NYS Legislature to commemorate the centennial observance of the "Spirit of 1776" suffrage campaign wagon in 2013, Suffrage Wagon News Channel focused on the accomplishment.
The "Spirit of 1776" New York State Legislature Resolution Created "Wagon Day" on Vimeo.
A SPECIAL FEATURE AT SUFFRAGE WAGON NEWS CHANNEL!

We have been working hard to make sure the "Spirit of 1776" suffrage wagon would be on exhibit during 2020 at the New York State Museum in Albany, New York. These plans were set aside in the unprecedented state effort to contain the coronavirus epidemic that hit New York State in a dramatic and tragic way. Even though the wagon is on display in the lobby of the state museum, right now, the institution's doors are closed to the public.
KEEPING THE "SPIRIT OF 1776″SUFFRAGE WAGON ALIVE IN THE PUBLIC MEMORY
We're enlisting our many friends and supporters to come up with a way to continue our programming during these difficult times. We've been reaching out to elected representatives in the Capital district of NYS, as well as the Museum Association of New York, of which we're a member for guidance and support.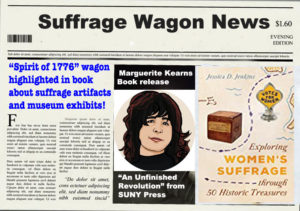 And a book that features the "Spirit of 1776" suffrage wagon stands as an example of illustrating how one of 50 "historic treasures" representing the spirit underlying the early women's rights campaigning is important. Exploring Women's Suffrage through 50 Historic Treasures affirms what we've known here on Suffrage Wagon News Channel—that the suffrage campaign wagon in the collection of the New York State Museum is a "treasure." And it is featured in this work that adds more meaning and substance to a part of US history that was invisible for most of the 20th century.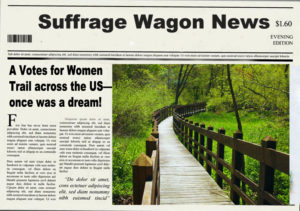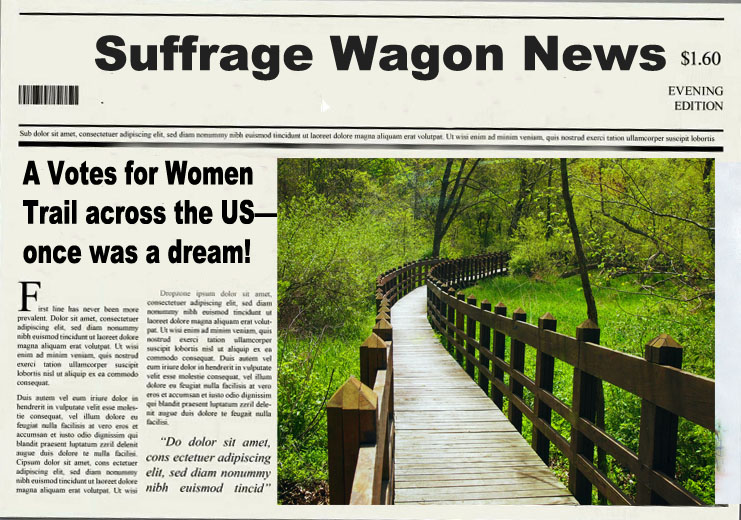 CONTACT US WITH YOUR IDEAS AND OFFERS OF ASSISTANCE
Get in touch with us at Suffrage Wagon News Channel and let us know how you can help to spread the word. Planning for your book club in 2021? "An Unfinished Revolution: Edna Buckman Kearns and the Struggle for Women's Rights" is a candidate!
Suffrage Wagon News Channel has been publishing since 2009.