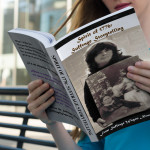 How do suffrage stories speak to us today? The "Spirit of 1776" reminds us of the long history of individuals and organizations reaching out toward change. They had no idea in the moment of the impact of what they were doing. What's the message for today?
Think outside the box. Even if you're convinced your cause is hopeless, take the first step and document your campaign.
Suffragist activists in the U.S. and England both went up into the air to make their point. One story is about Long Island suffragist Roaslie Jones who tied down her skirts with blue string in 1913, gathered together a stack of yellow Votes for Women leaflets, and took off in a plane from the Staten Island airport for a trip to throw the literature from the sky.
Plan to visit Huntington, New York during your travels this year. See the historic road marker commemorating the controversy caused by the suffrage campaign wagon in July 1913.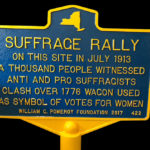 English women reached for the sky in 1909. A BBC podcast describes the suffragettes who went up in an air ship to throw Votes for Women leaflets over the House of Parliament. Here's a two-minute podcast of  Muriel Matters describing the incident as a first-person account. Remember: Chinese philosopher Lao-tzu said: "A journey of a thousand miles begins with a single step."
FROM MARGUERITE KEARNS:
I have been writing my way to understanding myself, as well as a period of time when American women struggled to win the right to vote. My grandmother Edna passed on her suffrage movement archive to me, as well as stories my grandfather Wilmer told me about falling in love with Edna in 1903 and the long journey they shared in New York City and Long Island relative to grassroots organizing. Finally I am getting close to rocking the cradle and completing the telling of the tale. With every post, I take yet another step toward reaching my goal of sharing the tale with others. I appreciate the help and support I've had since 2009 when blogging about this process. 
Suffrage Wagon News Channel has been publishing since 2009.
Follow the Suffrage Wagon at SuffrageWagon.org