Suffrage Wagon Cafe is introducing its women's suffrage storytelling series on July 8, 2015. Are you subscribed? This long-awaited series links story to facts. People who follow the Suffrage Wagon love the details and how the cafe is opening its doors. Meet your friends at the Suffrage Wagon Cafe.
Check out past story videos and start following the adventures of Edna Buckman Kearns and Wilmer Kearns. Teachers and students who follow the suffrage wagon tell us that they love the facts best when delivered with story. And Bess is a rebel girl, someone who challenges her best friend Edna Buckman who's determined to become an activist in the women's suffrage movement. Bess views herself as an outsider, and she's headed out into the world as a free independent woman. No marriage for Bess. But Edna had romance on her mind.
Links to Suffrage Wagon News Channel's updates and announcements: Our second year of telling the story of the July 4th co-conspirators. National award for "Spirit of 1776" music video, plus video highlights. Path through History weekend in NYS includes programs on women's rights. Women's history myth and free ebook, "Jailed for Freedom" by Doris Stevens. June special program from Suffrage Wagon Cafe about the perks of visiting Seneca Falls, NY. Get prepared for the upcoming "Suffragette" film from the UK by checking out the BBC series, "Shoulder to Shoulder."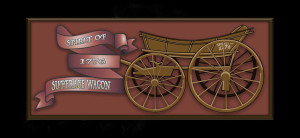 Publishing since 2009. Follow award-winning Suffrage Wagon News Channel on Facebook, Twitter, and email subscription. Quarterly newsletters just by signing up.
Suffrage Wagon News Channel has video platforms on Vimeo and YouTube.