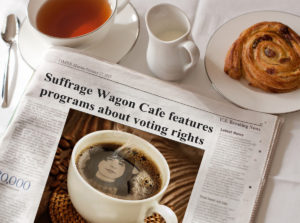 This week a historical marker was unveiled in front of the Chautauqua County Court House in front of the old courthouse building on 1 N. Erie St. in Mayville, N.Y.
The historical marker commemorated Susan B. Anthony visit to Chautauqua County in December 1854, the first stop of her statewide campaign to establish women's rights committees in every county.  Susan B. Anthony spoke at the courthouse, and then travelled to Sherman where she spoke to a "large and enthusiastic" crowd. Michelle Henry, Chautauqua County Historian, received a grant from the William G. Pomeroy Foundation to pay for the marker.
The Susan B. Anthony marker is part of the Pomeroy Foundation's New York State Women's Suffrage Historic Marker Program, which is one of its special commemorative signage grant programs.
The Pomeroy Foundation is a private, grant-making foundation established in 2005.  One of the Foundation's main initiatives to celebrate history through historic signage.  Since 2006, the Foundation has funded more than 825 grants for roadside markers and plaques in New York State and beyond. For more information: wgpfoundation.org.
Historic markers funded by the Pomeroy Foundation are being planned across the nation. Some communities are paying for additional sites themselves.