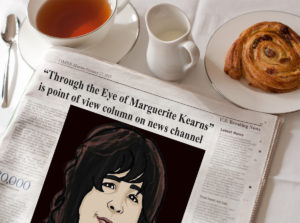 by Marguerite Kearns
During the 1970s and 1980s I lived in Ulster County where Sojourner Truth was born and raised in captivity. I found Sojourner Truth to be among the courageous residents of Ulster County even though she had a very mixed experience there.
Today the university library at SUNY New Paltz is named after her. In Port Ewen, NY there's a statue of her as a child. The State of New York is in the process of installing a statue of Sojourner Truth as an adult on state land today. And there's a plaque commemorating her on the front lawn of the Ulster County courthouse in Kingston, NY.
When I visited the Smith College library collection in the past few years I requested to see what they had on Sojourner Truth. They had an original of her vintage photo that she used to distribute and raise funds during her lifetime. Sojourner was a traveling minister, abolitionist, and women's rights activist. It was quite an experience to hold in my hands something that I believe Sojourner  touched.
Next year in the spring of 2021 I'll be publishing a memoir and family history of my experiences as a family member of suffrage activists. Sojourner Truth wasn't part of my family, but she made a big impact on me when I lived in Ulster County, New York for 20 years. So expect more from me in the future about Sojourner.
Follow Suffrage Wagon News Channel. Follow during 2020, the centennial celebration of the 19th Amendment to the US Constitution.