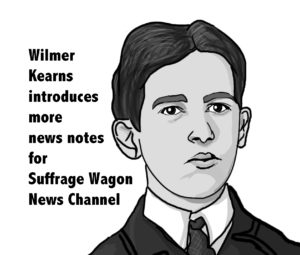 Wilmer Kearns spreads the good news for Valentine's Day. The "Spirit of 1776″suffrage campaign wagon used by Edna Kearns and others will be on exhibit at the New York State Museum during March, Women's History Month, through the summer of 2020.
Planning for the 2020 voting rights centennial? Consider visiting Albany, New York and the New York State Museum.
Check Suffrage Wagon News Channel for updates.
Stay current with news updates about the effort to litigate the legal issues involved with adding the Equal Rights Amendment to the US Constitution.
US women have been working for almost 100 years to guarantee equal rights for women under the US Constitution. The world is watching. Apparently many established politicians still believe it's okay to discriminate against more than half of the US population—that is, women.
Do you have free time in January 2021 to devote to another women's march for equal rights?
US women have been marching for more than 100 years for equal rights. What's the goal? Marching for 150 years for a guarantee of first-class citizenship? How about marching for 200 years? Doesn't this prospect reek of insanity? One definition of insanity is doing the same thing over and over and expecting a different result.
The struggle for women's rights remains an unfinished social and economic revolution.
Here's our resident frog playing a banjo and wishing everyone a Happy Valentine's Day. And our frog will be watching the outcome of the 2020 US presidential election. Stay tuned!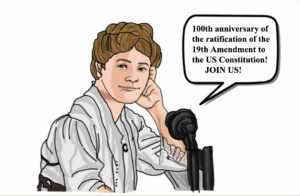 Suffrage Wagon News Channel has been publishing since 2019. Join us!
We're also spreading the word about the US suffrage martyr, Inez Milholland, this year.
There's an update of news on InezMilhollandCentennial.com.