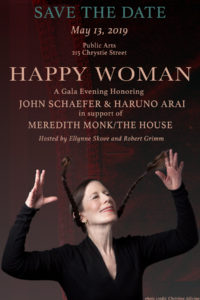 WOMEN LIKE MEREDITH MONK ARE HAPPY FOLKS
Save the date of May 13, 2019 for the program "Happy Woman" with Meredith Monk and others. I've been in the lucky position of having my friend Meredith sing this song to me. It's a reminder that the road to social justice and freedom may be a long one, but we sing along the way.
ANOTHER OPPORTUNITY TO FIND OUT ABOUT MEGHAN MARKLE'S SUFFRAGE SPEECH
Meghan Markle affirmed the long and difficult struggle of women winning the right to vote when she spoke to New Zealand women about their 125th anniversary of voting rights. If you didn't hear the speech, here's the transcript. It's as valuable today as when the message was originally presented during 2018. Thank you, Meghan. You affirm the long and difficult effort of those of us working long and hard to bring this part of history out of the basements of history. Her speech:
We are proud to be able to join you tonight in celebrating the 125th anniversary of women's suffrage in your country.
The achievements of the women of New Zealand who campaigned for their right to vote, and were the first in the world to achieve it, are universally admired.
In looking forward to this very special occasion, I reflected on the importance of this achievement, but also the larger impact of what this symbolizes.
Because yes—women's suffrage is about feminism, but feminism is about fairness.
Suffrage is not simply about the right to vote but also about what that represents. The basic and fundamental human right of being able to participate in the choices for your future and that of your community. The involvement and voice that allows you to be a part of the very world you are a part of.
And women's suffrage is not simply about the right to vote for women, but also about what that represents.
The basic and fundamental human right of all people—including members of society who have been marginalized—whether for reasons of race, gender, ethnicity, or orientation—to be able to participate in the choices for their future and their community.
So bravo New Zealand, for championing this right 125 years ago—for the women who well deserve to have an active voice and acknowledged vote, and for all of the people that this effort has paved the way for globally.
We all deeply thank you.
In the words of your suffragette Kate Sheppard, "All that separates, whether race, class, creed, or sex, is inhuman, and must be overcome."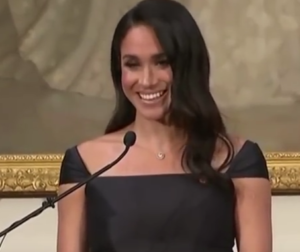 Suffrage Wagon News Channel has been publishing since 2009. We are going into our tenth year of publication in 2019.
REMINDERS
Keep an eye on the New York State Museum in Albany, New York. If you're traveling in NYS, make sure you see the model statue of Elizabeth Cady Stanton and Susan B. Anthony that is on display there through March.
And the "Spirit of 1776" suffrage campaign wagon used by Edna Kearns and others will be on exhibit at the New York State Museum in 2020.
Check out our sister site: