by Marguerite Kearns
Vision  2020 has been working on the issue of FREEDOM for years! And now it has come up with a plan to increase the number of voters determined to make a difference. It involves voting teams, and the announcement of this plan is in plenty of time before the November 2020 election.


Vision 2020 is based in Philadelphia, and that's where the story of my grandmother Edna Kearns begins—in the city with so many associations with freedom and equality. Edna was born in Philadelphia and the love story involving my grandfather Wilmer Kearns starts there as well.
AN UPDATE ON THE STORY OF EDNA BUCKMAN KEARNS, MY GRANDMOTHER!
I'm working hard to complete the story of my grandparents that is scheduled for publication in 2021. While I'm working away, I'm eager to pass on news about what's happening NOW.
Vision 2020 says that "far too many women don't vote, and many of those who miss elections actually intended to cast their ballots—but we all know that following through gets hard when life gets busy."
A VOTER MOBILIZATION PROGRAM THAT'S SORELY NEEDED…
Vision 2020 has announced its voter mobilization program for this reason in cooperation with Motivote— Vision2020Votes. It's a social way to vote and mobilize others to do the same. Participants join teams, invite their friends, and more. There are incentives and even FUN! Absentee voting is also part of the process, if needed.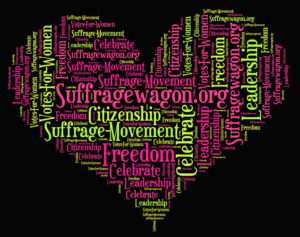 Check out Vision 2020's web site for details.
And follow Suffrage Wagon News Channel for updates about the "Spirit of 1776" suffrage wagon. Due to a temporary closure of the New York State Museum in Albany, NY, the wagon isn't available for viewing due to coronavirus concerns.
Plan to include the US suffrage martyr, Inez Millholland, during celebrations and observances during this year.
And participate in the Vision 2020 plan for voter mobilization.

Suffrage Wagon News Channel is a digital newsletter publishing since 2009. The "Spirit of 1776" campaign wagon used by Edna Kearns in grassroots votes for women organi
Be part of the Suffrage Wagon community by way of email, Twitter, and Facebook. Check out our Vimeo video channel. Quarterly newsletter form.
Follow Suffrage Centennials for upcoming events and celebrations. Wagon graphic by Ray Lund.

We're persistent in our goal of inspiring, motivating, educating, and entertaining audiences about how we stand on strong shoulders.