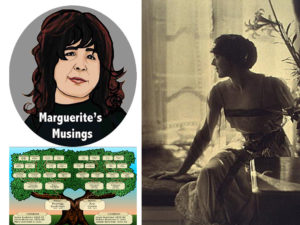 by Marguerite Kearns
If the virus crisis affecting the planet has told us anything, it's that everything has changed overnight. Family stories, traditions, legends, and legacies will disappear along with everything else unless we take steps NOW for future generations.
Over my lifetime I've heard repeatedly: "I wish I'd asked questions of older relatives before it was too late."
Well, folks. It's not too late to find out about the family tree as the news keeps pouring in about the impacted planet.
That's a family tree in the above image. Does your family have one or more family trees and the stories that go with it? Get started!
NOW IS THE TIME TO SHARE FAMILY STORIES BEFORE IT'S TOO LATE TO DO SO…
In many families only the photos and family oral tradition is passed onto the future. If there's a moment in time to emphasis this, it's now. This web site publishing since 2009 has been aware of this. I've specialized in making sure that this is the reason for our existence. Of course it's necessary to follow the guidelines in effect in your community. Naturally one shouldn't turn your back on how to stay safe and healthy. And in addition to all of this, set aside time to pass on the family stories in whatever way you can.
SOME OF SUFFRAGE WAGON'S ATTEMPTS TO PRESERVE THE PAST FOR THE PRESENT AND FUTURE BY WAY OF STORYTELLING!
There's my book in the publishing pipeline that tells the stories of a previous generation of families stepping up to the plate to participate in one of the major extensions of freedom and civil rights of the early 20th century. Before compiling the book, Suffrage Wagon News Channel experimented with storytelling. It's a gift from me to my family and to the future.
Suffrage Wagon has stories & much more fun! on Vimeo.
I'll be driving home this point in upcoming posts featured on Suffrage Wagon News Channel. And I'll be sharing with you stories and videos that are part of my upcoming book scheduled for publication in 2021.
And stop by the Suffrage Wagon Cafe to catch up on past programs.