The question remains.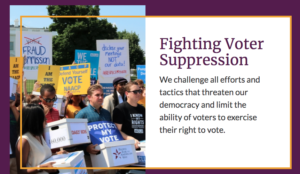 Is voting a joke? Something to be taken casually?
Winning the right to vote was a long and difficult struggle.
The year 2020, whether we're hunkered down at home or out in the traffic, it matters how we're setting priorities. Make the best decision you can during this health crisis. Meanwhile, we're are carrying on the work of those who came before us.
WHAT KIND OF COUNTRY DO WE WANT TO LIVE IN?
That's what American women have asked from the founding of this nation.
Voting is something we haven't taken seriously until recent years. Do we want to live in a country where voting is manipulated? Where cynical political interests don't think twice about dirty tricks? The national League of Women Voters is asking questions such as this.
LEAGUE OF WOMEN VOTERS CELEBRATES ITS 100th BIRTHDAY IN 2020!
Suddenly those who have been cynical or apathetic for years are looking to our past, taking those lessons seriously, and planning for the future. This isn't to glorify the past but to carry the lessons of the past into the future. The year 2020 brings these issues to the forefront.

 AND NOW IS WHEN WE'RE SETTING PRIORITIES!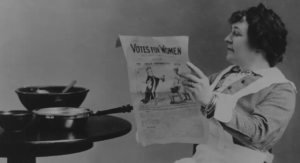 The upcoming election, if it happens without manipulation, will be a miracle. The future is at stake relative to our survival, not only ourselves, but our future as a species.

Suffrage Wagon News Channel is a digital newsletter publishing since 2009. The "Spirit of 1776" campaign wagon used by Edna Kearns in grassroots votes for women organizing in NYS is a symbol of the tireless work of tens of thousands of activists across the US. The wagon has been exhibited in 2010, 2012, 2017-2018, at the New York State Museum in Albany, New York. It is a prime artifact of the early women's rights movement. The wagon is part of the permanent collection at the state museum. Edna Kearns (1882-1934) was a grassroots activist in the early women's rights movement in the US.
EDNA KEARNS' DESCENDANTS TAKE UP HER LEGACY!
Marguerite Kearns, Ed., is the granddaughter of Edna B. and Wilmer R. Kearns. Tara Bloyd is associate editor of SWNC. She is the great-granddaughter of Edna and Wilmer Kearns.
The channel highlights progress on the ongoing memoir (a work in progress) by Marguerite Kearns.
Be part of the Suffrage Wagon community by way of email, Twitter, and Facebook. Check out our Vimeo video channel. Quarterly newsletter form.
Follow our sister site, Suffrage Centennials, for upcoming events and celebrations. Wagon graphic by Ray Lund.

"Spirit of 1776" is a nationally award-winning music video honoring Suffrage Wagon News Channel's efforts to restore the early women's rights movement to its proper place in American history. We're persistent in our goal of inspiring, motivating, educating, and entertaining audiences about how we stand on strong shoulders.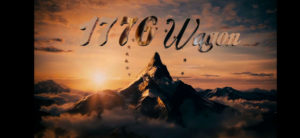 That's why we're emphasizing the importance in the upcoming weeks to take seriously our responsibilities as family members to nail down and share our family stories.
FOLLOW the Suffrage Wagon.