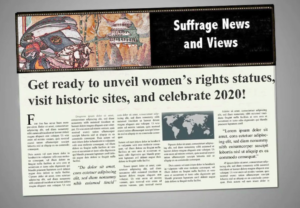 by Marguerite Kearns
Over the past year I have been working hard to write and  finish a story about my grandparents Edna and Wilmer Kearns.
It's a gift to them and my family. If I don't write it, no one will. That's what I have been telling myself.
The women's rights activism of the early 20th century is period of time in history that is passing quickly with few direct personal links to the those who lived through it and remembered.
This is important because we're building on the work of others who came before us. We're not reinventing the wheel. We've learned that we accomplish more by uniting than continuing the policy of divide and conquer.
THE 2020 SUFFRAGE CENTENNIAL IS PERSONAL FOR ME!
I was fortunate enough to have a grandfather, Wilmer Kearns, who told me enough about the movement that I've been hooked for life. That's what the memoir and family history is about… my story, how four generations in my family have made a difference, and we're starting with these accomplishments in mind and as a baseline.
Wilmer Kearns: The husband of suffragist Edna Kearns from Marguerite Kearns on Vimeo.
I have been writing in spite of the cancellations of many public events and celebrations of the 100 years of women voting since the ratification of the 19th Amendment to the US Constitution in 1920. I had hoped the book would be ready for the 2020 suffrage centennial.
DOES IT MATTER THAT MY BOOK WON'T BE PUBLISHED IN 2020?
I didn't create the deadline. And I couldn't have predicted that the spread of a virus would close down many 2020 suffrage events and celebrations planned for this year. The estimated date of 2021 is something I've had to accept.
Now I'm hearing talk that the centennial celebration may be extended into 2021. Right! We're not forgetting the solidarity that has been building over the past decade. It's quite a journey  since I started blogging in 2009.
MY BOOK WILL BE A PERSPECTIVE OF ONE FAMILY THAT MADE ACTIVISM A PERSONAL MISSION
It is written in scenes—as I spent hours at my grandfather Wilmer's house at the age of ten listening to his stories about my grandmother Edna. He shared his own personal views about the movement. He was committed. And he made sure that the "Spirit of 1776" suffrage campaign wagon was preserved over the years. The wagon is now in the collection of the New York State Museum in Albany, NY. And it's an important symbol.
It's also a personal story that starts with me at the age of ten. The drama is brought up to the present day, with friends and readers holding my hand throughout.
One example of the many who came before us.
Edna Kearns gets attention for her women's suffrage work! on Vimeo.
Snapshots from the Life of Edna Kearns on Vimeo.
Another important character in the story is Bess, my grandmother's close friend who grew up next door to her in Germantown. It was a rocky road, a drama that plays a large part on the story about my family.
VIDEO: Bess introduces herself as Edna's best friend from Marguerite Kearns on Vimeo.
Keep in touch with Suffrage Wagon News Channel and special programs at Suffrage Wagon Cafe.