NEWS FLASH ABOUT THE SPIRIT OF 1776 SUFFRAGE WAGON
It's the 108th annive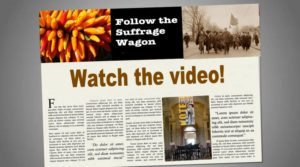 rsary of the first journey of the Spirit of '76 suffrage wagon. And in the past week the New York State Museum in Albany gave the valuable artifact a long-needed vacation from the light, The wagon has been on exhibition since 2017. The wagon used by Edna Buckman Kearns and other voting rights activists in New York State has been displayed at the museum in 2010, 2012, 2017-2018, 2020-2021. It is a popular item that symbolizes the extensive grassroots participation of NYS residents and others for 100+ years and more.
Stay up to date on the story of the Spirit of '76 suffrage wagon at the New York State Museum.
Food—Upside down cake was a family affair at the Kearns household! Suffrage Wagon Cafe  on Vimeo.
Suffrage Wagon News Channel has been publishing since 2009.
BOOK ABOUT SUFFRAGE CAMPAIGN WAGON AND PASSING THE FREEDOM TORCH RELEASED BY SUNY PRESS
Register for the zoom reading by Marguerite Kearns at Bookworks in Albuquerque, NM on July 28, 2021. Tune into Carol Boss on "Women's Focus," KUNM Radio, on Saturday, July 24, 2021 for a live interview with author Marguerite Kearns.
SUNY Press (State University of New York) has published An Unfinished Revolution: Edna Buckman Kearns and the Struggle for Women's Rights. This is quote an accomplishment. And the story of the wagon is part of the book text. Pass the torch of freedom and celebrate the Spirit of 1776. See the book web site: Unfinished-Revolution.com