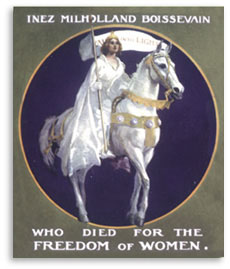 A group of grassroots activists and a California Congresswoman have joined forces to honor suffragist Inez Milholland on the centennial of her death while campaigning for Votes for Women.
Representative Jackie Speier (D-CA) has submitted a nomination to President Obama for Milholland (1886-1916) to be awarded the Presidential Citizen's Medal in 2016. This second highest of civilian awards recognizes Americans who have made a significant contribution to the nation's progress. Citing her "vital" leadership in the suffrage movement, Congresswoman Speier called Milholland "a shining star in the pantheon of inspiring leaders" in the early 20th century.   The nomination is featured on the web site, InezMilhollandCentennial.com.
The yearlong Inez Milholland Centennial campaign is part of the National Women's History Project, the 35-year-old educational center responsible for the month of March being officially designated as National Women's History Month. Journalist Marguerite Kearns, descendant of a suffragist and editor of the SuffrageCentennials.com website, is co-chair along with Robert P. J. Cooney, Jr., author of "Winning the Vote" and editor of "Remembering Inez: The Last Campaign of Suffrage Martyr, Inez Milholland."
The two activists have started a digital petition (change.org/p/help-honor-an-american-hero) and postcard campaign so individuals and organizations can show their support for the nomination. The project's website offers further details, information and resources about Milholland, and newly issued "Honor Inez" buttons. The project welcomes partners and invites the participation of schools, individuals, and groups throughout the country.
The year 2016 is the centennial of Milholland's death in Los Angeles of exhaustion and pernicious anemia. The loss of the charismatic, thirty-year-old New York attorney intensified women's efforts for the ballot and led to the picketing of the White House in January 1917. "Milholland's death reignited the drive for a Constitutional amendment and tragically emphasized the price American women were forced to pay to win their own civil rights," noted Kearns.
"2016 is also an election year," she observed, "when American women will be remembering the long and difficult 72-year campaign for Votes for Women nationally that they finally won through the 19th Amendment in 1920."
While highlighting Inez's story, the centennial project encourages communities throughout the country to research their own local and state suffragists and celebrate their achievements.
As Cooney noted, "Inez Milholland was one of tens of thousands of women who worked for equal rights between 1848 and 1920, and we should know many more of them by name."   The effort is part of the preparation for the national suffrage centennial in 2020.
A new 15-minute film, "Inez Milholland: Forward into Light," is in the process of completion by producer Martha Wheelock of Wild West Women. A trailer for film, which is scheduled to premier in April, is posted on YouTube.
Inez Milholland is one of sixteen 2016 Honorees being recognized by the National Women's History Project at a special Women's History Month luncheon in Washington, DC. The noontime event is being held at The Hamilton Live on March 19, 2016. For tickets, visit nwhp.org.
Follow Suffrage Wagon News Channel on Facebook and Twitter. Quarterly newsletters just by signing up. Suffrage Wagon News Channel has video platforms on Vimeo and YouTube.
Comment on the Suffrage Wagon blog. Follow SuffrageCentennials.com for news and views about upcoming women's suffrage centennial events and celebrations. 
"Choose it and Use it" is a video reminding us of how the past is linked to what we do today and its impact on the future. Celebrate women's freedom to vote.