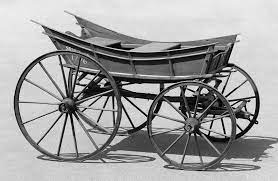 This illustrati9n accompanied a feature article about the Spirit of 1776 horsedrawn suffrage campaign wagon in the collection of the New York State Museum in Albany, New York. The feature article appeared in New York History Journal tbat is published by Columbia University.
The imagined documentary or feature series about my grandmother Edna Buckman Kearns and the NYS suffrage campaign took a leap recently by my remembering and appreciating what it took to arrive where we are today. We were once under the umbrella of the Floating Foundation of Photography in High Falls, New York. Jone Miller and the Floating Foundation were responsible for initiating the first exhibition of Edna's suffrage campaign wagon back in 1986 with a grant from the NYS Council on the Arts where Jane Van De Bogart featured her great aunt, Elisabeth Freeman, along with Edna Buckman Kearns and her suffrage campaign wagon.
Edna Kearns and Elisabeth Freeman worked together in the New York State suffrage movement. It was thrilling to be collaborating with so many others to bring about the first exhibition of the suffrage wagon in New York State. And it was yet another step forward in getting the word out. In the years I spent in New Mexico, I took classes so I could make educational videos about the early women's rights movement. This suffrage film project was supported by a small grant from the Puffin Foundation.
The book I published from SUNY Press in 2021 would not have been possible without a long line of individuals and organizations that persisted over many years. The Floating Foundation of Photography is but one example.
For bookings and interviews, leave a message for Marguerite Kearns (855) toll free 553 3666.
Thank you to the Floating Foundation of Photography for its extra effort in getting the word circulated about the women's Spirit of 1776.
Suffrage Wagon News Channel has been publishing since 2009.
SuffrageCentennials.com is committed to honor the 100 years that US women have been working on an equal rights amendment to the US Constitution. Remembering and taking action is an important part of a long struggle for freedom.
The year 2023 is a centennial observance of US women celebrating 100 years of working on an equal rights amendment to the US Constitutin. We have eagle eyes for the passage of this amendment.