Episode #6: Wilmer Kearns tries to win over Edna with his storytelling on Vimeo.
Welcome to Suffrage Wagon Cafe which opened its doors in March 2015, Women's History Month. Catch up on past programs.
Wilmer Kearns (my grandftaher) is complicating the story, as Edna's best friend Bess points out. Wilmer's determined to wear down Edna's resolve not to marry because of the few rights young women possess at the turn of the 20th century. Bess has been reading Mary Wollstonecraft and other controversial women writers. She's even paid a price for doing this after her parents found the Mary Wollstonecraft books hidden under her mattress in her bedroom at home.
A SUMMARY OF THE "SPIRIT OF 1776" STORYTELLING SO FAR!
Wilmer Kearns is a fresh upstart from Beavertown, PA where he grew up playing musical instruments with his family. Enjoy these images of Wilmer as a young man from the Kearns family photo collection. Episode #6 highlights one of Wilmer's tactics. His determination to wear down Edna's resolve to avoid marriage is fueled by his storytelling. This has worked so far while they've been meeting in secret at the Market Street teahouse. But the narrative becomes even more complicated after Edna's parents find out about the couple seeing each other weeks after their first meeting at the Pompeii restoration exhibit.
THE PLOT IS NOW EVEN MORE COMPLICATED.
Wilmer Kearns left his hometown at age 16 and moved to Philadelphia where he enrolled in business college. That's when he met Edna at the Pompeii exhibit in 1903. Bess warned Edna to be careful about falling in love. Bess is committed to remaining single, and she wastes no time in sharing books with radical ideas about equality with all her friends. Edna seeks a middle ground, but it's not clear yet if Wilmer Kearns has what it takes to win Edna's heart.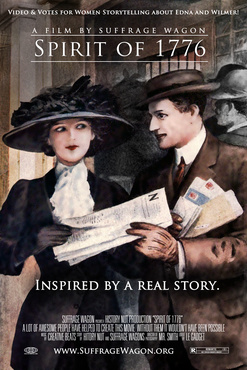 Episode #1. Bess gets in trouble.
Episode #2. Now Bess is in even more trouble.
Episode #3. Wilmer Kearns enters the story.
Episode #4: Mary Wollstonecraft's books gets Bess in more hot water.
Episode #5: Bess and Edna argue about decisions they must make.
Episode #6: Our special feature here at the Suffrage Wagon Cafe.
Relax by following Suffrage Wagon News Channel on Facebook and Twitter. Quarterly newsletters just by signing up. Suffrage Wagon News Channel has video platform on Vimeo. "Spirit of 1776" film posters by Corinna Canek.
Meet your friends at the Suffrage Wagon Cafe. Follow SuffrageCentennials.com for news and views about upcoming suffrage centennials. "Choose it and Use it" is a video reminding us of how the past is linked to what we do today and its impact on the future.