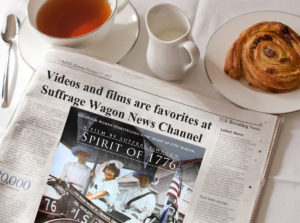 by Marguerite Kearns
At the end of 2019 I took a break from blogging. After writing about my grandparents and the "Spirit of 1776" suffrage campaign wagon for 10 years, I ran out of steam.
I had no idea that my grandmother's suffrage campaign wagon would be back on exhibit in March 2020, and that other plans were underway that would make me tremble with excitement. However, concerns about coronavirus may impact the exhibition of the wagon. Check with the NYS Museum's web site for updates about the museum's openings and temporary closings related to the coronavirus response.
IT HAS TAKEN A CENTURY FOR THE STORIES OF THE EARLY WOMEN'S RIGHTS ACTIVISTS TO BECOME BETTER KNOWN
It's 2020, the 100th anniversary of the ratification of the 19th Amendment to  the US Constitution. AND New York is the cradle of the women's rights movement in the United States.
Celebrating 100 years of women voting: Program at Suffrage Wagon Cafe on Vimeo.
THE GOAL OF WINNING WOMEN'S VOTING RIGHTS WASN'T A SLAM DUNK!
Decendants of Suffrage Movement Activists— on Vimeo.
As if the task of bringing about equality wasn't challenging enough, the goal of women's voting rights was accomplished within a social and economic system full of obstacles, including racism and the fierce opposition of many social and business interests. It took decades after 1920 for the voting rights guaranteed in the US Constitution to be realized.
The suffrage wagon's exhibition during March 2020, Women's History Month, is a tremendous gift to New Yorkers and the nation. There's more news to come.
Follow Suffrage Wagon News Channel.
Our sister web site, SuffrageCentennials.com, has updates about the 2020 centennial.