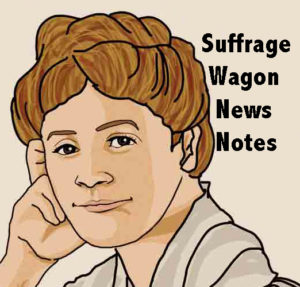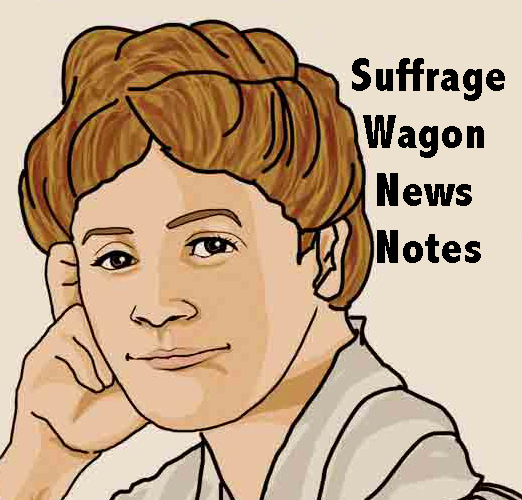 Happy Saint Patrick's Day during Women's History Month!
According to our resident frog, this is an opportunity to remember the early struggles for equality and freedom during the early 20th century in Ireland and around the world.
Over the past few years the story of women's organizing on the local level has emerged from the void. This seemed like an impossible dream back when Suffrage Wagon News Channel started publishing in 2009.
THE "SPIRIT OF 1776" WAGON ON VIEW AT THE NEW YORK STATE MUSEUM
This month we've been preparing to celebrate the exhibition of the "Spirit of 1776" suffrage campaign wagon used byEdna Kearns and others during the early 20th century. The wagon was scheduled to be displayed at the New York State Museum in Albany, NY through the summer of 2020.
THE NYS MUSEUM IN ALBANY, NY HAS BEEN TEMPORARILY CLOSED DUE to the closings related to the control of coronavirus.
THE IMPORTANCE OF MARCH AS WOMEN'S HISTORY MONTH
During March—Women's History Month—there will be special events and observances throughout the nation. Many will be online or cancelled.  In 1987, after being petitioned by the National Women's History Project, the US Congress passed legislation designating March as Women's History Month. The National Women's History Project has now changed its name to the National Women's History Alliance.
START PLANNING NOW FOR AUGUST 26th FOR GREAT CELEBRATIONS…
As the year of 2020 progresses, plan now for on or about August 26th—Women's Equality Day when terrific celebrations will be held across the nation. Here is one example.
We have been publishing since 2009. Follow Suffrage Wagon News Channel.