WHAT IS SPECIAL ABOUT JANUARY
Joan of Arc was an icon of the women's suffrage movement in both the US and England (now the UK). Kathleen Kelly published an article about this very subject for the New York History blog that is appropriate to share again.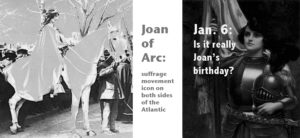 When Inez Milholland, the US suffrage martyr, led votes for women parades she invoked the spirit of Joan of Arc among those who marched in the parades. This is something to remember as we go into a new year with the upcoming 2020 suffrage centennial in mind. Mark January 6th on your calendar, what is believed to be Joan of Arc's birthday. Plan for March, Women's History Month, on your calendar. And don't forget the effort to make August 26th (Women's Equality Day) a national holiday. The National Women's History Project is now the Women's History Alliance. Membership is free.
SPECIAL UPDATES ABOUT WHAT'S HOT AT SUFFRAGE WAGON NEWS CHANNEL
Sign up for the Inez Milholland blog established in 2016, the 100th anniversary of the death of Inez Milholland. The Women's History Alliance (formerly the National Women's History Project) sponsored a year-long observance of this anniversary coordinated by Marguerite Kearns and Robert P.J. Cooney Jr. Follow the blog at InezMilholland.wordpress.com
Suffrage Wagon News Channel has been publishing since 2009 to keep you updated with the "Spirit of 1776" suffrage campaign wagon used by Edna Kearns in New York State suffrage organizing. SuffrageCentennials.com highlights suffrage centennials.
An example of the many products (above) available from the National Women's History Project (now the Women's History Alliance).