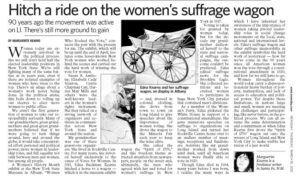 The publicity associated with the Kearns motor car, manufactured in Beavertown, PA, is included in the content of a university press book, as well as a Historical Society of Beavertown, PA exhibition throughout October and November 2022. New York State is in the process of placing its Spirit of 1776 suffrage campaign wagon used by activist Edna Kearns on permanent exhibition at its state museum facility in Albany, NY.
SEE THE KEARNS MOTOR CAR, FIND OUT HOW KEARNS DESCENDANTS HAVE CARRIED ON THE FAMILY WORK TODAY, AND MUCH MORE
One of the Kearns motor cars, the LuLu model, is part of the permanent exhibit in the transportation department of the Pennsylvania state museum in Harrisburg. Lulu Kearns and Edna Kearns were women's suffrage activists more than 100 years ago.
And Kearns family descendants are part of the enthusiastic supporters today linking the family spirit to contemporary challenges. Note the dates: October 9 and 23, 2022, as well as through November 2022, the 6th and 20th, at the exhibit in Beavertown (see leaflet below).
The LuLu model is part of the permanent collection in the state museum of Pennsylvania that was manufactured in Beavertown, PA over 100 years ago. It can be seen in the transportation devision at regular state museum hours.
Kearns descendants today carry on the family spirit that includes a book by Marguerite Kearns published in 2021 by SUNY Press (State University of New York) that has substantial content about the Kearns motor car legacy.  An Unfinished Revolution: Edna Buckman Kearns and the Struggle for Women's Rights.
Check out https://vimeo.com/620828311 for a video context that we produced that gives the rationale for the importance of such family stories today.
Family descendants from Beavertown and Harrisburg, PA are available to spread the word. So is Marguerite Kearns who can speak about her book from SUNY Press that features Wilmer Kearns, the Kearns motor car company, and more.
Suffrage Wagon News Channel has been publishing since 2009.