An article in "Huntington Now," an online publication featuring the April 24, 2018 dedication ceremony of the historic marker funded by the Pomeroy Foundation. The marker featured the "Spirit of 1776" suffrage wagon used by Edna Kearns and others, and it is located in the business district of the Huntington, New York community. See link.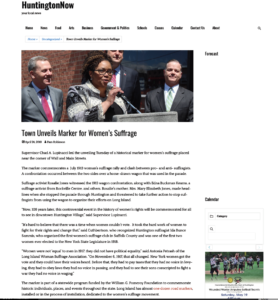 Take note of:
Lawrence Gooley in NY History.  Plus excellent article on women's fashions in 1844.
Follow Suffrage Wagon News Channel, your go-to place for updates about the "Spirit of 1776" suffrage wagon, news and views of the suffrage movement, highlights of books we're reading. If you have a favorite book and you'd like it featured, contact Marguerite Kearns at suffragewagon at gmail dot com.
Find out about Inez Milholland, our U.S, suffrage martyr. Stay current with Suffrage Centennials, our sister site.