I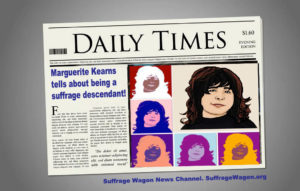 A well-known feminist has been publishing blogs of interest to women. I liked her determined spirit until I heard her rant with such cliches as "Let them rot in hell" and "throw them in jail and throw away the key."
MORE HARM DOESN'T RESULT IN HEALING
Advocating for more harm does not solve the problem of gender abuse. It does not address learned behavior. Healing is an easy word to say. It's not an easy process to carry forward. Let's stop the harm ASAP, and throwing people into situations designed to create EVEN MORE harm. It isn't the answer either.
THE DREADED WHISTLEBLOWER SPEAKS UP…
I'm a whistleblower. I have  to speak up. The violent reactor took me off her distribution list and was insulted I spoke my truth. Enough. We have plenty of other issues to blow our whistles about!
Suffrage Wagon News Channel has been publishing since 2009.
Overview of the "Spirit of 1776" suffrage wagon, part of New York State Museum collection! on Vimeo.