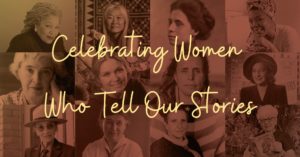 by Marguerite Kearns
By all accounts, I continue on a journey. When someone asked me once, "would I do this again" or am I sorry I took the route I did, I answer not with a "yes" or a "no," but with: "What happened can't be overturned. I am here, now, and the path taken is now the past, and I am who I am because of it. I learned a lot, but I am not sorry."
FAITH, COURAGE, INNER DIRECTION, AND STRENGTH—A SHARED JOURNEY
The journey from Ulster County to today took years of faith, courage, inner direction, and strength. I had visions then that have shifted. I must be kind to myself and those I love. The journey of inner work continues. I was aware of this decades ago when I enrolled at St. John's College to take a class in the mythic journey. It was about Odysseus and "The Odyssey." The goal for him was to travel away for 20 years and return home to tell the story.
2023 IS THE 100th ANNIVERSARY OF WOMEN WORKING FOR EQUAL RIGHTS
I am now facing this journey home. Long ago I realized that I had washed up on the shore of Ithaca. But I was only able to survive. I did this in many ways. Last year I realized that I couldn't continue my situation any longer which was to be indecisive and postpone decisions. I believed that my final journey would be the move to New Mexico.  It is very different than I imagined.
Now my journey involves another journey of reaching a higher level of awareness. It is now. Some might say it is a final level to the internal spiritual world. I can do it. I will do it. And I will tell my story. Now. This year is the 100th year of US women working. to achieve an equal rights amendment to the US Constitution. It is a good year.
A JOURNAL OF FEELINGS ABOUT JOURNEYS INTO THE UNKNOWN…
Come with me while I begin a journal of my feelings accompanying the telling of my story. It isn't just my story. It is the story of us all. We have taken external journeys. Now we balance this with internal journeys.
SuffrageWagon.org has been publishing since 2009.