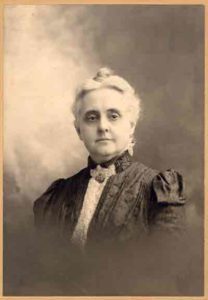 A BLAST FROM THE PAST:
Mariana Wright Chapman was a prominent New York Quaker suffragist. A family archive in the collection of the Friends Historical Library of Swarthmore College includes correspondence received while she was active in suffrage activities in New York State, 1893-1900, family letters, particularly between Mariana and her husband, Noah, and the correspondence of the Wrights, the Chapmans, and of her son, A.Wright Chapman. The collection also includes Mariana's journals from 1895-1900, that of Caroline Willets, 1842-1846, and as well as suffrage memorabilia, family copybooks and albums, and financial records, including an account book of the Manhasssett Association of Relief, 1861-1871.
Edna Buckman Kearns of New York was in the next generation of Quaker women's rights activists.
More notes from the Friends Historical Library:
Mariana Wright Chapman was born in New York City in 1843, the daughter of Quakers Aaron and Mary Willets Wright. She attended Friends Institute, later called Friends Seminary, until her family's move to Springboro, Ohio, in the early 1850s. She spent two years at Antioch College. In 1864 she married Noah H. Chapman under the care of Springboro Monthly Meeting. The young family moved east in 1880 and purchased a home in Brooklyn, New York.
As their three sons and two daughters got older, Mariana became active in the struggle for woman suffrage. Her interest had been aroused in the mid 1880s when she attended a women's suffrage meeting and was inspired by the speakers.
She was eventually named President of the Women's Suffrage Association of Brooklyn and then resigned to take the office of president of the New York State Suffrage Association. She was also a member of the Brooklyn Women's Club from 1888 until her death, was a charter member of the New York League for Political Education, and was instrumental in founding the Friends Equal Rights Association.
In addition to suffrage, she was also actively involved in other social and religious concerns, particularly prison reform, peace, and education. She died at her country home in Port Washington, New York, in 1907, after a long illness.
Suffrage Wagon News Channel has been publishing since 2009.