Program: "Suffrage Wagons: The Winding Road to Voting Rights"
Presenter: Marguerite Kearns Oct 15, 1-3 p.m. $15. Registration only at Renesan.org
ARE YOU VOTING IN THE 2020 PRESIDENTIAL ELECTION? Chances are that your grandparents, great grandparents, other family members and ancestors may have lobbied, picketed, agitated, and worked alongside tens of thousands of other US citizens who spent decades winning voting rights for women. The women's voting rights victory was one of the largest civil rights campaigns of this nation spanning from before 1848 to 1920 and beyond.
WHY WERE HORSE-DRAWN WAGONS USED IN ORGANIZING CAMPAIGNS?
Learn how suffrage wagons were used in rural areas and cities in parades, demonstrations, and special exhibits. Discover why the New York State Museum has featured the horse-drawn wagon used by Edna Kearns in its 2020 exhibition. Across the nation, Americans are celebrating the passage and ratification of the Nineteenth Amendment to the US Constitution during 2020 by scheduling special events and celebrations.
BACKGROUND ON MARGUERITE KEARNS
Marguerite Kearns is a Santa Fe resident and the granddaughter of Edna and Wilmer Kearns, voting rights activists. She is a freelance writer, former journalist, and author of the book, "An Unfinished Revolution." This illustrated memoir and family history spans three generations in one family to illustrate intergenerational activism and the importance of grassroots organizers like her grandparents in the early women's rights movement.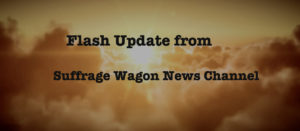 LETSROCKTHECRADLE.COM IS SPREADING THE WORD ABOUT THE OCTOBER 2020 QUAKER GRAVESTONE DEDICATION!
Find out more about the online dedication ceremony at Plymouth Meeting's Quaker burial ground. See: SuffrageWagon.org/BurialGroundDedication