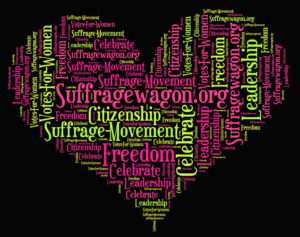 By Marguerite Kearns
It's another day to celebrate that my grandmother Edna Kearns' "Spirit of 1776" suffrage campaign wagon is out of the warehouse at the New York State Museum and on exhibit during 2020.
It's the centennial year—100 years—since the ratification of the 19th Amendment to the US Constitution.
THE SUFFRAGE WAGON IS A REMINDER OF THE WORK STILL TO BE DONE!
And it is close to 100 years since US women have been working to add women's rights to the US Constitution. US women have been marching for more than 100 years in order to bring attention to the embarrassing situation that this country finds itself in.
It's relatively simply to scream about human rights issues around the world. We're good at this. And more people are speaking out about a pattern of not treating citizens with respect. It's NOT okay to refuse to write equality into the US Constitution for more than half of the country's population.
38 STATES HAVE RATIFIED THE EQUAL RIGHTS AMENDMENT!
We're at a place in time—this year—when 38 states have ratified the Equal Rights Amendment. An incredible amount of work has gone into this. But now after all this, officials of the US government are still standing in the way of a momentum sweeping the country.
Father knows best, and father (there are many of them) is claiming that US women didn't meet the 1982 deadline, and so sorry. Tough luck, ladies! Go back to your kitchens and stop your whining and grumbling.
THE TIDE HAS TURNED AND MANY US CITIZENS HAVEN'T NOTICED
I agree— there is NO deadline on human rights. That's why US citizens from around the nation are contacting their elected representatives and bending their ears about a pattern of prejudice and discrimination that is outdated and insulting.
Tell the US Congress to make equal rights a priority and add it to the US Constitution! Remove the deadline for the Equal Rights Amendment. The level of resistance to a fundamental guarantee is worse than embarrassing. There are more people than ever tired of policies that elevate some to the top of a social and economic hierarchy and keep down others.
WHAT ARE YOU DOING DURING THIS CENTENNIAL YEAR OF 2020?
There are so many commemorations and special events and projects that I can't keep count of them. This wasn't true ten years ago when I started blogging about the suffrage campaign wagon used my my grandmother and others in 1913.
The wagon is now on exhibit at the New York State Museum in Albany, NY. I'll understand if you can't travel long distances to see it. So, do something else instead and support the Equal Rights Amendment.
Let's make 2020 a real turning point.
SuffrageWagon.org has been publishing since 2009.