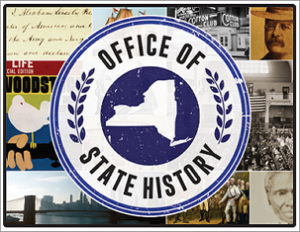 The first issue of the New York History journal has been published under a collaboration between the New York State Museum and Cornell University Press. Published twice a year, the scholarly journal presents articles regarding New York State history as well as reviews of books, exhibitions, and media projects with a New York focus.

Now published by Cornell University Press working in coordination with an editorial team at the New York State Museum, New York History journal seeks to unify the diverse field of New York State history and meet the needs of a growing historical community that includes scholars, public historians, museum professionals, local government historians, and those seeking an in-depth look at the Empire State's history.

The New York State Museum is a program of the New York State Education Department's Office of Cultural Education. Located at 222 Madison Avenue in Albany, the Museum is open Tuesday through Sunday from 9:30 a.m. to 5 p.m. It is closed on the Fourth of July, Thanksgiving, Christmas, and New Year's Day. Admission is free.

The "Spirit of 1776" suffrage wagon used by Edna Kearns and others in 1913 will be on exhibit at the NYS Museum during 2020, the 100th anniversary of the 19th Amendment to the U.S. Constitution.
KEEP THE MEMORY OF INEZ MILHOLLAND CURRENT
We know Inez Milholland as the suffrage activist who died in 1916. Order a 15-minute film about Inez from Wild West women for classes this academic year. InezMilholland.org
Another book highlights Inez: Secret Heroes: Everyday Americans Who Shaped Our World." It's about time. The facts are clear about Inez, but what's really compelling is the brief segment devoted to her in "Iron Jawed Angels" that featured Inez on a horse leading the parade in Washington, DC at the time of President Woodrow Wilson's inauguration.
Suffrage Wagon News Channel has been publishing since 2009.