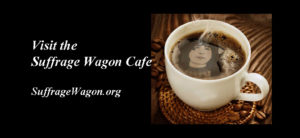 What's next from Marguerite Kearns, anchor of Suffrage Wagon News Channel! on Vimeo.
Suffrage Wagon Cafe continues its women's history programming! on Vimeo.
UPDATES ABOUT EDNA KEARNS AND WILMER KEARNS:
After moving in 1920 from Rockville Centre, NY (Long Island) to the Buckman family home (Echo Dale) near Norristown, PA—Edna and Wilmer opened a nursery at their home which they named Echo Dale Gardens. Their second daughter, Wilma, was born on November 12, 1920 at Riverview Hospital in Norristown, PA and she grew up at the Buckman family home. The Kearns business was the recipient of many awards for their flowers—especially the dahlias, gladioli, iris, and peonies. A file of the plants sold, as well as other memorabilia from Echo Dale, is at the Metz Library at the New York Botantical Gardens in the Bronx.
Check out the programs on Suffrage Wagon Cafe where we bring the past, present, and future together. The cafe has been operating since 2015.
Follow the suffrage wagon at SuffrageWagon.org where Marguerite Kearns is anchor.