Marguerite Kearns settles down to write memoir of family legends! on Vimeo.
Get ready for March and Women's History Month!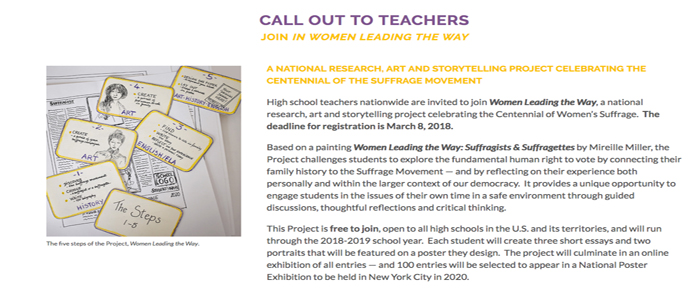 HIGH SCHOOL TEACHERS: MIREILLE MILLER is reaching out to high school teachers for a program "Women Leading the Way: Suffragists and Suffragettes."
suffragettes2020.com/about/about-mireille-miller
"For me, my painting and the entire suffragette movement are part of a fabric that stretches back more than 100 years to the time of Elizabeth Cady Stanton, Susan B. Anthony, Harriet Tubman…" she says. "May it extend far into the future and inspire generations of young and courageous women and men around the world to continue the fight to give a voice to women and all disenfranchised peoples,"Mireille Miller says.
OTHER RESOURCES:"Declaration of the Rights of the Women of the United States,"* first read (under threat of arrest) on 4 July 1876 (in front of Constitution Hall, Philadelphia) can be found at http://www.lib.rochester.edu/index.cfm?PAGE=2941 
GET READY FOR MARCH, WOMEN'S HISTORY MONTH!